Joan Myers
Fire and Ice

Exhibition Dates:
April 25 - May 30, 2015



"We like to imagine Earth as a ball, a brightly-colored dime-store globe with countries and oceans drawn on its glossy surface. We forget that its surface slides, subducts, and transforms, setting off earthquakes and volcanic eruptions. Icy poles melt and then reform over geologic time, dramatically changing sea level.  Fire and ice are animating forces for our planet, constantly changing its surface and atmosphere. . . . A stable earth, whatever we would like to think, is an illusion. . . . "
~Joan Myers

The Andrew Smith Gallery opens an exhibit of recent photographs by Joan Myers titled FIRE AND ICE, with an artist's reception on Saturday, April 25, 2015 from 2 to 4 p.m.   Myers, who lives near Santa Fe, has been taking photographs for more than thirty years, exploring the relationships between people and the land. Her highly acclaimed work has been the focus of three Smithsonian exhibitions, more than fifty solo and eighty group shows, and seven books. 
Joan Myers has long been fascinated by the enormous changes wrought upon the Earth by volcanic activity and the movement of polar ice sheets — as she says, "by what I cannot see and by what goes on beneath my feet."  To this end she has spent the last few decades photographing extreme hot and cold zones in North and South America, Antarctica, Indonesia, Europe, the Caribbean, the Galapagos, the Canary Islands, Iceland, Easter Island and other places.  
The risks Myers takes to obtain her photographs are impressive.  Describing a photograph she took near the summit of Anak Krakatau in Indonesia, she writes: "The flanks of the new volcano hiss with sulfur dioxide fumeroles, and new domes periodically form within the crater.  About ten days after this picture was taken (when I camped overnight on the island), the volcano suddenly erupted with an ash plume rising 14,000 feet and repeated lava explosions."
FIRE AND ICE features a selection of Myers' breathtakingly beautiful, thought-provoking photographs from Lava Beds National Park, California;  Merapi Volcano, Java;  Tungurahua Volcano, Ecuador; Mt. Kilauea, Hawaii; Montserrat in the Caribbean;  Cappadocia, Turkey; Herculaneum, Italy and elsewhere. 
The exhibit continues through May 30, 2015.
On Friday, April 24, 2015 at 6 p.m. Joan Myers will be signing copies of her new book "Fire and Ice: Timescapes" (Damiani Editore, 2015) at Collected Works Bookstore & Coffeehouse in Santa Fe. The distinguished contemporary art critic Lucy Lippard, will be participating in a conversation with Myers.  Myers' essay in "Fire and Ice: Timescapes" reads like an adventure story, exploring the connection between fire and ice while describing her thrilling treks to ends of the Earth.  The book includes an essay by Kathleen Stewart Howe who has curated over 100 exhibitions and is author of several catalogues focused on the interplay of photography and culture.  

Works on exhibit at Andrew Smith Gallery include the following:

INDONESIA
"Merapi, Java, Indonesia" (Painting)

Negative Date: 2012
14.5" x 22" Archival Pigment Print
Mount Merapi, which translates as "Fire Mountain" in Indonesian/Javanese, is the most active volcano in Indonesia.  It has been designated as one of the "Decade Volcanoes," meaning it is worthy of particular study since it has a history of large, destructive eruptions and is located near populated areas.   Myers photographed a folk art wall painting showing a child looking at a volcano spewing lava;  a poignant reminder of the mountain's threat to thousands living within a hair's breadth of disaster.

"Merapi, Java, Indonesia" (rock)
Negative Date: 2012
20" x 29.75" Archival Pigment Print
Merapi Volcano has erupted regularly since 1548.  In 2010 an eruption killed more than 350 people and destroyed fields and villages on the volcano's flanks. Myers photographed a damaged interior on the slopes of Merapi just 17 miles north of the large city of Yogyakarta.  In what was once a home or business a giant boulder and volcanic rubble are sandwiched between once brightly colored walls. 

"Merapi, Java, Indonesia" (TV)
Negative Date: 2012
20" x 29.75" Archival Pigment Print
Inside another home destroyed by the 2010 eruption Myers photographed the charred remains of a television and controller. The ghostly reflection of the photographer in the television screen underscores the grim reality of living near an active volcano.
ECUADOR
"Tungurahua, Ecuador" (Tree House)
Negative Date: 2009
20" x 29.75" Archival Pigment Print
Tungurahua (Throat of Fire) Volcano in Ecuador began its most recent eruptive phase in 1999 after a long dormant period.  Activity has continued to the present, most dramatically in 2006, when a six-mile-high plume was accompanied by a pyroclastic flow that killed people and destroyed several small towns and roads.  In one of Myers' most memorable pictures a tree house with a child's swing dangling below would be charming if not for the billowing column of volcano smoke overhead.  

HAWAII

"Kilauea, HI"

Negative Date: 2008
20" x 29.75" Archival Pigment Print
Looking like a child's toy, a geometric house sits on an immense, smoldering crust of black and red lava flowing down from Mt. Kilauea.  Myers' photograph, shot from a plane, shows a birds-eye view of a house in the Royal Gardens subdivision being engulfed by a massive lava flow.  Although the lava had spared the house when this picture was taken, it was later covered by a subsequent flow. 


"Hawaii, Kilauea Offering"

Negative Date: 2012
14.5" x 22" Archival Pigment Print
An arrangement of brilliant green leaves and vermillion flowers shimmer on the gray pumice slopes of Mt. Kilauea.  Such offerings are still made to Pele, the goddess of lightning, fire, wind, and volcanos, whose home is said to be at the Halema'uma'u Crater, at the summit of Kilauea Volcano.  




"Oahu, HI" (Shrine)

Negative Date: 2008
14.5" x 22" Archival Pigment Print
Myers photographed another humble offering to the nature spirits on Oahu, Hawaii. A basket wrapped in bright prink fabric, a smiling doll,  a can of soda and flowers were placed on a volcanic rock at a sacred site in the piko (center or navel) of the island, known as Kukaniloko, an area associated with the births of high chiefs.


CARIBBEAN

"Plymouth, Montserrat" (church)

Negative Date: 2011
14.5" x 22" Archival Pigment Print
On the island of Monserrat in the Lesser Antilles, Myers photographed a once great church now almost completely buried under volcanic rubble.  A British overseas territory, Monserrat was nicknamed "The Emerald Isle" for its resemblance to coastal Ireland.  However, in 1995 the previously dormant Soufrière Hills Volcano erupted suddenly,  covering the capital city of Plymouth in ash.  Most of the population fled, and continued eruptions have kept the tourist industry from rebuilding.
"Plymouth, Montserrat" (Overview)

Negative Date: 2011
20" x 29.75" Archival Pigment Print
This somber photograph taken from a high vantage point,  shows the total devastation of the once magnificent Georgian-era capital city of Plymouth in Montserrat, destroyed by repeated pyroclastic eruptions of the Soufrière Hills Volcano.  Encased in a sea of gray ash, the shells of house, skeletal trees and blackened utility poles are all that remains of the once vibrant city.  


"Plymouth, Montserrat" (Street)
Negative Date: 2011
14.5" x 22" Archival Pigment Print
A few fast growing tropical plants have regained a foothold in the destroyed city of Plymouth, Montserrat.  Although Myers managed to get access, visitors are still not permitted into the eruption zone due to the likelihood of continued activity.   




"Guadeloupe"

Negative Date: 2011
14.5" x 22" Archival Pigment Print
On the island of Guadeloupe in the Lesser Antilles Myers photographed a "volcanic bomb" of lava sprouting tropical plants into which had been carved a small, hand-painted Catholic shrine honoring the Virgin Mary.   Not far away La Grande Soufrière is an active strato volcano that last erupted in 1976, causing evacuation of the island but no damage.  



TURKEY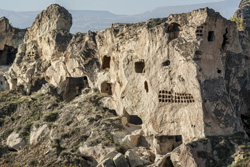 "Cappadocia, Turkey"
Negative Date: 2014
20" x 29.75" Archival Pigment Print
Ürgüp, Turkey in Central Anatolia is part of the historical region of Cappadocia.  Myers photographed an outcropping of volcanic tuff that the local population had carved out over hundreds of years into shelters, storage, churches, and even pigeon houses.    



CANARY ISLANDS
"Cueva De Los Verdes, Lanzarote, Canary Islands"
Negative Date: 2013
40" x 60" Archival Pigment Print
In this mammoth size photograph variegated cave walls are perfectly reflected in a mirror-like underground lake.  The photograph is both an extraordinary document of a magnificent cave as well as a dazzling arrangement of textures and mineral colors that seem to spiral toward the center of the composition.  Myers writes: "The spectacular Cueva de los Verdes on Lanzarote in the Canary Islands is part of an extensive lava tube system over 3.7 miles long, with an additional 0.93 miles under the sea.  This cave measures more than 45 feet in diameter and was used during the 16th and 17th centuries by the local population to hide from the European pirates and Muslim slave raiders who periodically attacked the island."

ITALY
"Herculaneum, Italy"

Negative Date: 2010
20" x 29.75" Archival Pigment Print
Herculaneum was an ancient Roman town destroyed in 79 AD by volcanic pyroclastic flows from Mount Vesuvius.  Unlike Pompeii,  much of Herculaneum's roof tops, building beams, beds, doors, food and fine houses were preserved.  Myers' photograph reveals this ancient culture's lavish use of pink and ochre colored stone in what remains of ancient walls and columns.  



"Pozzuoli, Italy" (Roman Baths)

Negative Date: 2010
20" x 29.75" Archival Pigment Print
The city of Pozzuoli lies at the center of the Campi Flegrei, a massive volcanic caldera in an area populated by about 3 million people. A Roman colony was built there in 194 BC, which became a major emporium for ships from all over the Roman world. Myers photographed the ancient brick walls of Roman baths that are nearly encased in sulfur and ash colored mineral deposits.



COSTA RICA
"Arenal, Costa Rica" (Bird)

Negative Date: 2011
20" x 29.75" Archival Pigment Print
A solitary black bird with an orange bill perches on a green branch, a spot of hopefulness in an otherwise bleak volcanic landscape of cinder and rock.  According to Myers, "Arenal Volcano in Costa Rica hosts an exceptional variety of topical birds, including toucans, orange-bellied trogons, great curassows, crimson-collared tanagers, cinnamon woodpeckers, black-created coquettes, green thorntails, and this Montezuma oropendola."  
EASTER ISLAND
"Easter Island (El Gigante)"
Negative Date: 2009
20" x 29.75" Archival Pigment Print
Easter Island is one of the world's most isolated islands, formed from an overlapping of three shield volcanoes that developed from a submarine mountain range over the last 750,000 years.  Myers' photograph depicts one of the fallen, lichen-covered monolithic sculptures (moai) that Easter Island's ancient inhabitants carved from the island's tuff, or consolidated volcanic ash.



CALIFORNIA
"Lava Beds, CA"
Negative Date: 2008
20" x 29.75" Archival Pigment Print
Looking more alien than human, distorted shadows glide over the mercury-colored walls of Valentine Cave, one of many underground marvels in Lava Beds National Monument in northern California.  The lava tube caves as well as cinder and spatter cones, were created in the repeated eruptions of the massive Medicine Lake shield volcano over the last half million years.



Joan Myers' work is included in the permanent collections of the Amon Carter Museum, Bibliothèque Nationale de Paris, Center for Creative Photography, Denver Art Museum, George Eastman House International Museum of Photography, High Museum of Art, Minneapolis Museum of Art, Museum of Fine Arts, Houston, Museum of Modern Art, Nevada Museum of Art, and the San Francisco Museum of Modern Art, among others
Liz Kay