Annie Leibovitz

American Music


October 22, 2004 - January 15, 2005
Andrew Smith Gallery opens its sixth exhibit of photographs by famed photographer Annie Leibovitz titled "Annie Leibovitz: American Music," on Friday, October 22, 2004, with an opening reception from 5-7 p.m. The exhibit coincides with Leibovitz's newest book from Random House, Annie Leibovitz: American Music (2003). Andrew Smith Gallery is the first gallery to exhibit this work since it opened in New York City earlier this year. "Annie Leibovitz: American Music" continues through January 15, 2005.
Annie Leibovitz's career began in the early 1970s when at age 24 when she photographed rock and roll groups for Rolling Stone Magazine. In creating the series, "American Music," Leibovitz followed "a desire to return to my original subject and look at it with a mature eye." Between 1999 and 2001 she made an ambitious photographic journey so that she could say something about how popular music is made and how musicians live. Beginning in the Mississippi Delta she traveled to Louisiana, Tennessee, Missouri, Texas, California, Florida, New York City, and New Jersey photographing the icons of blues, bluegrass, country, jazz, rock, folk, hip-hop, punk rock, and rap. She set up her cameras wherever musicians appeared most at home; in their living rooms, lounging on porches, performing in church, choirs and recording studios, in cars, by swimming pools, and in the middle of main street.
"American Music" covers nearly a century of musical creativity. Most of the photographs were taken between 1999 and 2001, but the exhibit (and book) includes some images from the early 1970s. There is a strong sense of time passing in these portraits. The oldest living celebrity is Pete Seeger (b. 1919) and the youngest is Norah Jones (b. 1979). The photographs in color and in black and white are both nostalgic and cutting edge, portraying people living and dead. Portraits include B.B. King, Beck, Brian Wilson, Dan Zanes, Emmylou Harris, Hank Williams, Iggy Pop, John Frusciante, Johnnie Billington, Johnny and Roseanne Cash, June Carter Cash, Lou Reed, Laurie Anderson, Lucinda Williams, Mary J. Blige, Michael Stipe, Norah Jones, Patti Smith, Ryan Adams, The Roots, The White Stripes, and Willie Nelson.
Elvis Presley's Turntable, Memphis, Tennessee
, 2001 - The day Elvis Presley died in 1977 he had an album by The Stamps on his turntable. Leibovitz took this close up photograph of the album which is still on display at Graceland.
Iggy Pop, Miami, FL
, 2000 - According to Leibovitz, the 1960s rock star was legendary for psychodramas that involved rolling in glass and walking on the audience. She writes that he "came to the door with his shirt off and said he didn't want to be photographed without his shirt, but he never put it on". Leibovitz made two photographs, front and back, of the lean, long-haired Iggy. "His body is a road map of hard travel," she said. "It's hard to resist."
Norah Jones, New York City, NY
, 2003 - Norah Jones is one of the youngest superstars. Her father is sitarist Ravi Shankar and her first album, Come Away with Me (2002), for which she wrote the title song, sold six million copies and won eight Grammys, including Album of the Year. In Leibovitz's photograph, Norah works at the piano, her exotic beauty just visible behind narrow frame glasses.
Pete Seeger, Clearwater Revival, Croton-on-Hudson, NY
, 2001 - Pete Seeger (b. 1919) is the original activist folksinger. He got his start traveling around the country with Woody Guthrie collecting songs. He was blacklisted in 1952 by the House Committee on Un-American Activities when he was a member of the popular folk group, the Weavers. Undaunted, he marched in the 1965 civil rights movement in Selma, Alabama, and protested the war in Vietnam. Leibovitz photographed the indomitable Seeger standing on the shoreline of the Hudson River whose ecology he has helped restore. Around his shoulder is his long-neck banjo inscribed with the words, "This Machine Surrounds Hate and Forces it to Surrender."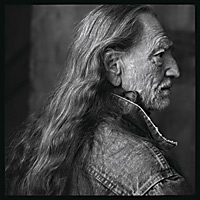 Willie Nelson, Luck Ranch, Spicewood, Texas
, 2001 - A highlight in the exhibit is Leibovitz's formal black and white portrait of one of America's most prolific singer-songwriters. The close-up photograph shows the noble, hook-nosed profile of the 70 year old singer whose silvery long hair flows over a threadbare jean jacket.
Leibovitz's photographs of celebrities in the music, film, politics, art, sports, and literary worlds have been extensively featured in publications like Rolling Stone, Time, Life, The New York Times Magazine, Esquire, Vogue, and Vanity Fair. Foreign publications include Paris-Match, Bunte, Stern, Photo, Amica, and the London Sunday Times Magazine. Leibovitz is the recipient of the American Society of Magazine Photographers awards for Best Photograph and Photographer of the Year. She also won the Photographer of the Year Award from the International Center of Photography. With her retrospective show in 1991, "Annie Leibovitz: Photographs 1970-1990," she became the first woman to be exhibited at the National Portrait Gallery in Washington D.C.
Liz Kay