Ansel Adams:
Collecting and Connoisseurship, An Exhibition
February 9 – April 20, 2019

AA/2806 Ansel Adams, Grass and Pool, Ca. 1935
Silver Gelatin Print, 7.1x9", 18x23cm Print Date: 1959
$6000
This is print 11 from Portfolio 3 from edition 151/250 published by the Sierra Club. This print has deep rich black and white tones typical of his late 1950s and early 1960s prints.
Andrew Smith Gallery is pleased to host the exhibition,
Ansel Adams: Collecting and Connoisseurship, An Exhibition
, containing 32 original Ansel Adams prints made from 1927 – 1980. The exhibition encompasses all phases of Adams career and has a variety of prints suitable for the novice photography buyer to the greatest museum collections in the country. If you love photography and always wanted to buy an original print by Ansel Adams, the grandest photographer of the 20th century, this show presents ample opportunities to buy a print at a modest price. We have reduced prices recently on most of the prints being offered.
Ansel Adams has the largest market share in the photography market with over 5600 lots offered at auction since 1970 (Gordons Auction House reports) more than one thousand more than the next most popular photographer Andre Kertesz. Over 190 of these were portfolios or lots containing multiple prints, so the total number of prints offered is likely over 7500 prints.
Andrew Smith Gallery has specialized in selling Ansel Adams prints since 1975 and sold over 1200 original Ansel Adams prints ranging from his very first print from the Pan Pacific Exposition of 1914 in San Francisco, to more than 100 prints of Moonrise, Hernandez, NM including the earliest vintage prints to prints made in his final Museum Set project in 1980.
The exhibition will feature a wide range of print formats, and vintage and modern prints from all periods of his career. From small Polaroid prints to a wonderful oversized print of The Grand Tetons, Snake River. Most of the prints for sale are offered at $10,000.00 or under and are geared for the adventurous and beginning collector, perhaps someone who loves photography and wants a rare and inexpensive but enchanting example of his work. There are prints for the more sophisticated collector and there are very rare and beautiful examples of his iconic prints, Moonrise, Hernandez, NM and Snake River and the Grand Tetons and other special prints for the most knowledgeable and specialized collectors. Prices of prints in the exhibition range from $900.00 to $200,000.00.
Ansel Adams is a towering figure in the History of Photography. He is best remembered for his dramatic and subtle prints of the American land, particularly the West, finding the rhythm and patterns of the world in his prints of nature ranging from abstract prints of leaves of grass to grand landscapes.
His landscapes like those of the legendary 19th Century landscape painters and photographers, such as Carleton Watkins and Thomas Moran, reinforced the still general popular belief in American Exceptionalism - that the American land was and is more beautiful and more valuable, that America was and is the "Chosen" land.
Unlike most other landscape artists, Adams spent a considerable amount of time walking, hiking and bedding down in the wilderness. It was his laboratory and he embraced the intellectual, emotional and visual support and knowledge it imparted. This emotional love nurtured and comforted him throughout his life.
Adams was a genius about writing and media, about chemistry and technology and aesthetics. He was charismatic and loved people. His mission was to spread the gospel of photography. He both absorbed and contributed to every encounter he had with a single person whether it be a beginning photographer, a gas station owner from Cimarron, New Mexico, a Rockefeller or a President. He applied the same attention to every single print in the darkroom, infusing its glorious tones with the expressive emotion he felt during the making of the negative and its print. He played the piano, wrote limericks frequently and entertained his visitors with his piano playing, wit and wisdom. He co-founded the photography department at the Museum of Modern Art in New York (1940) and the Center for Creative Photography, University of Arizona in Tucson (1974).                         
His image making covered many subject matters and the group of photographs in this exhibition speak to many of these including abstracts, trees, rocks, clouds, cemetery stone patterns, cemetery stones, Taos Pueblo, Yosemite, winter snow, rugged mountains, rock formations, buttes, New Mexico, adobe buildings, clouds in the high desert mountains, rivers and cliffs, flowing water, grand and dramatic landscapes, and close up views of plants and rocks.
He spent a vast amount of time every day writing letters, memos, and articles about art and photography, the environment, his daily activities and aspirations, photographic technology and aesthetics. By the 1930s he was famous for this. His wrote about the mountains, photographic technology and the environment beginning in 1922 for the Sierra Club Bulletin.

Adams begun publishing photographs in 1921 when he was 18 in Overland Magazine and he co-founded Aperture Magazine in 1952. He had an understanding of book and magazine printing so for each request for an illustration he would make a special print which was exposed and printed to bring out the most dramatic tones in that particular publication. This is why his prints would jump of the page while everyone else's receded. His fine art prints always exhibited his trademark style, depth of field, range of tones and expressive nature for both the maker and the viewer.
Adams' aesthetic view was clarified in 1927 when making his famous photograph Monolith and the Face of Half Dome. In Ansel's telling he had exposed all but his last negative when like a lightning bolt striking, he had an epiphany about pre-visualization in making a photograph. Looking at the subject, assessing the equipment, filters, chemicals, and exposure times to understand what the image in the ground glass would look like on a piece of paper; this pre-visualization is the expression of emotion. Emotion was a keyword for Adams. It encompassed the expressive aspect of making a negative and making a print. The emotion could come from summoning the original feeling he felt when he made the negative, it could be the emotion that he felt while making the print, the atmosphere of the subject and its cognizance and feeling when the viewer was looking at the print.
In Adam's world emotion was expressed through the different tones available, the Zone System of 10 shades of gray from black to white. Adams loved technology and tried out every lens, camera, light meter, printing paper and chemistry that was manufactured. Photographers are dependent on manufacturers for the types of paper, chemicals and tones in the emulsion, durability and finish of the paper. The aesthetics are tied into understanding the capabilities of this manufactured object.
Adams more than any photographer of his generation understood these constantly changing specifications of paper, chemistry and exposure and in his printing, he brought out the strengths of each piece of paper. Not all pieces of paper have the same ranges, some are darker, some are lighter, some have richer tones some have flatter tones. To stretch and bend and push these you first had to master the basics and he had mastered the basics while a teenager in 1917 working in one of the largest photography labs in San Francisco.
At this early time in his career, Pictorialism with its soft focus, was ascendant but about to change. Textured papers enhanced the soft focus and combined with sepia tones added to the old timey sentiment of the prints relating to the sepia toned 19th century albumen prints. By the late 1920s manufacturers made hard edged gelatin silver paper that replaced the softer sepia toned paper and this sharper focus lead to the F-64 group, co-founded by Adams, and the adoption of modernism, in the case of landscape photography this was defined by the clarity of the prints rather than the softness but it was also inherently defined by grades of paper and the amount of silver the manufacturers put in the emulsion. In the 1940s manufactures began taking out silver from the papers as it was needed for the war effort and by the 1950s optical brightening agents were pushing the gray tones out of the papers and replacing them with black and white tones.
With his most popular prints Adams would adapt their printing to the tones that could be drawn from the papers and chemistry. But as new papers were introduced Adams would adjust his selection of images to be printed to the strengths of that paper, such as in the Portfolio VI images from the 1970s. The paper was flatter and blacker calling for more images such as Petroglyphs and Pinnacles, emphasizing the abstract nature of the images.
For art lovers and fans of photography that want an entry level Ansel Adams original print there are many prints available. These are not the most famous or iconic images but are terrific examples of Adams work. These are prints Ansel loved and are prints which reflect a personal style of collecting. Of his dozen most famous images he made between 500 and 1200 prints and these are still his most popular, expensive and collected views. Of others he would make a handful, or if they were well received, he might have made a few hundred.
Enjoy the selection below. All prints are signed except the Polaroid print Asa. Negative is listed first, print date is listed as the second date.

AA/2311 Ansel Adams, Detail, Adobe Wall, Abiquiu, New Mexico, Ca. 1929
Silver Gelatin Print, 15.5x19.375", 39x49cm Print Date: Ca. 1970-75.  - $6000.00
This large version of this image shows Adams interest in abstractions early in his career.





AA/3253 Ansel Adams, Rocks And Limpits, Pt. Lobos, 1960,
Silver Gelatin Print, 14.25x18", 36x46cm, Print Date: 1960 c. - $12,000.00
In the 1940s Adams met the renowned photographer and teacher Minor White. They helped co-found Aperture Magazine in 1952. They both adhered to the expressive emotion laden photograph. White's version of pre-visualization was more Zen like, while Adams was keyed into scientific methodology in the Zone system looking at the scene while considering the materials and chemistry of the exposure. Minor made many views of rocks and Adams had a visual dialog for years with Minor.






AA/2813 Ansel Adams, [Asa - Face Carved In Stone], Ca. 1970,
Polaroid Print, 4.5x3.5", 11x9cm, Print Date: Ca. 1970 - $900.00
This unsigned print from the Polaroid Collection is a fine example of Adams' lifelong interest in the patterns and iconography of cemeteries.






AA/2871 Ansel Adams, Iron Grave Marker, Monterey, 1962,
Silver Gelatin Print, 13.325x16.625", 34x42cm Print Date: Ca. 1962 - $10,000.00
Adams found the rhythms of cemetery stones and the patterns of rural cemetery monuments of keen interest and a key part of showing modernism in the landscape. He began making views like this in the early 1930s, exhibiting them at the time. This print is made from a Polaroid negative.

AA/3195 Ansel Adams, Mullen [Zion National Park], Ca. 1940,
Silver Gelatin Print, 7x9.2" 18x23cm Print Date: Ca. 1960
$12,000.00
A Holiday Card with an original photograph by Ansel Adams. Adams advised Edwin Land, the inventor of Polaroid from the late 1940s until his death.



AA/1325 Ansel Adams, Trailside, near Juneau, Alaska, 1948
Silver Gelatin Print,19.25x15.1", 49x38cm Print Date:  Ca. 1975
One of Adams favorite published images in which he printed down the black tones to emphasize the various textures and patterns of nature.



AA/3259 Ansel Adams, River Cliffs, Autumn, Yosemite Valley, California, 1939
Silver Gelatin Print, 10.6x13.6", 27x35cm Print Date: Ca. 1970
Adams began spending time in the Yosemite Valley in 1917 becoming the custodian at LeConte Lodge, the Yosemite headquarters for the Sierra Club in 1919. He lived most of the year in Yosemite from the 1920s until 1962 when he moved to Carmel. It was also the center of his photography, his environmentalism and his livelihood. He explored the mountains and meadows and found the river views set in the forests with mountains as the backdrop to be one of his favorite compositions.

AA/3233 Ansel Adams, Half Dome, Merced River, Winter, Yosemite Valley, Ca. 1938
Silver Gelatin Print, 7.375x9.25", 19x23cm Print Date: 1940s
(early print signed on front no stamp)
This very early small gem of one of Adams grand landscape views shows the wonders of Yosemite in winter. Adams thrived in the winters in Yosemite.

AA/3212 Ansel Adams, Julian Martinez, San Ildefonso Pueblo, New Mexico, 1929
Silver Gelatin Print, 13x9.5" 33x24cm. Print Date: Ca. 1967 - $12,000.00
This view is one of Adams most successful portraits through his use of shadow and abstraction he shows Julian Martinez, the husband of the famous San Ildefonso potter Maria Martinez in a heroically stoic and contemplative mood.


AA/3234 Ansel Adams, Winnowing Grain, Taos Pueblo, New Mexico, Ca. 1929,
Silver Gelatin Print 13.5x10" 34x25cm, Print Date: 1972
Adams loved Taos where the patron Mabel Dodge Luhan hosted the famous painters, writers and artists of the time. He collaborated on the lavishly illustrated book Taos Pueblo with Mary Austin in 1930. The rhythm and patterns of the five story Pueblo and Pueblo life set under Taos Mountains drew artists from around the world. This latter print emphasizes the black shadows and patterns typical of his latter prints.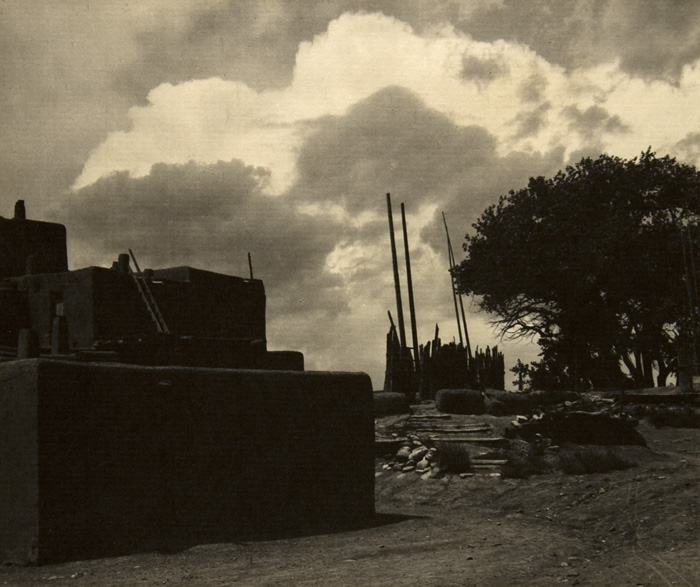 AA/2434 Ansel Adams, North House, Kiva Poles and Thunder Clouds, 1929,
Silver Gelatin Print, Print Date: 1930 - $18,000.00
The original publication of Taos Pueblo was made in an edition of 108 with each book containing 12 original silver gelatin prints. This signed vintage print shows the richness of the papers available in 1930 containing an abundance of silver they show the delicacy of the gray almost sepia tones in an emotional and pictorial tour de force.

AA/2268 Ansel Adams, Milestone Mountain, Ca. 1923
Silver Gelatin Print, 7.5x5.75", 19x15cm., Print Date:  Ca. 1927 - $6000.00
Dark and foreboding, this is the earliest print in the collection where Adams used the rich shadows of his Parmelian prints to highlight the foreboding nature of climbing such craggy mountains.





AA/2875 Ansel Adams, The Enchanted Mesa [Acoma, New Mexico], Ca. 1930
Parmelian Print, 5.125x7.375", 13x19cm Print Date:  Ca. 1930
$15,000.00
In this vintage print Adams is using mass and form with shadow some of the grand tenants of modernism in landscape photography as used by Paul Strand when he was in the Southwest. On the top of this mesa was an ancient town.

AA/3240 Ansel Adams, Ghost Ranch Hills, Northern New Mexico, 1937 
Silver Gelatin Print, 14x19.75", 36x50cm, Print Date: 1981
Similar in composition to the image of Acoma, here Adams is showing the beloved hills that Georgia O'Keeffe would wonder near her home in Ghost Ranch.





AA/2825 Ansel Adams, Cascades, 4-NW-37, [North Cascades National Park, Wa.], 1958
Silver Gelatin Print, 10.25x12.75", 26x32cm, 11 x 14", Print Date: Ca. 1958 - $6,000.00
Water, rivers, surf, and running water attracted Adams. Capturing its flow within terms of the structure of the underlying rocks was a challenge worthy of all of Adams technical skills and harkens back to the work of William Henry Jackson in Yellowstone and John Hillers in the Grand Canyon in the 1870s.






AA/2865 Ansel Adams, Scintillation, Merced River, Wawona, California, Ca. 1955
Silver Gelatin Print, 17.75x13.625", 45x35cm, 20 x 16" Print Date: Ca. 1960 - $18,000.00
Here is water in contemplative motion. Very much in the spirit of Minor White the rocks contain the shiny scintillating movements as seen by the camera. This is from a Polaroid negative.

AA/2823 Ansel Adams, Park Creek Forrest Into Sun, [Northwest] 4-NW-30,
[North Cascades National Park], Ca. 1958
Silver Gelatin Print, 13.25x9.5" 34x24cm, Print Date: Ca. 1955
Single trees, unknown trees, and the grandness of trees are a large tradition in photography from Watkins to Atget to Adams who photographed forests and trees throughout the west, here in the Northwest Coast.

AA/3264 Ansel Adams, Forest and Stream, Northern California, 1959
Silver Print, 15.5x19.25", 39x49cm, Print Date: 1974
(From Portfolio VI from edition 52/110)
Here Adams focuses on the needles and trunks of evergreens in this Portfolio VI print. There is light in the foreground and a density in the forest enhanced by the dark tones of his 1970s prints.

AA/3085 Ansel Adams (early print) Alders, Prairie Creek Beach, Northern California,
Ca. 1949, Silver Gelatin Print, 15.125x19", 38x48cm, Print Date: Ca. 1960

This was a favorite of Adams, as he put this in a portfolio in the 1970s, but his prints from the early 1960s like this one, had richer tones lighting up the trunks of the alder trees, a favorite style Adams also applied to his Aspen forests.

AA/2439 Ansel Adams, Fresh Snow, Yosemite Valley, California, Ca. 1947
Silver Gelatin Print 15.5x19", 39x48cm, 16 x 20", Print Date: 1974 - $12,000.00
(Portfolio VI edition 48/110)
Black tree trunks and branches in white winter snow were a natural subject for Adams studies in black and white. Here he could create complex patterns or simple patterns and, in the tension, find the joy of a nature frozen.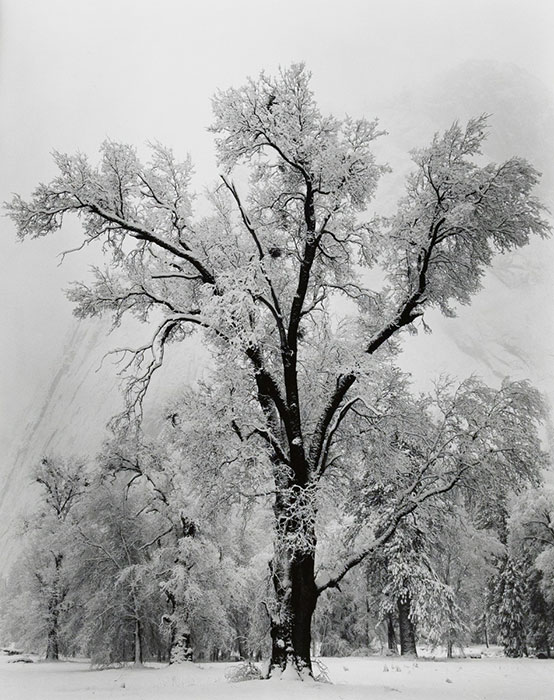 AA/1203 Ansel Adams, Oak Tree, Snowstorm, Yosemite National Park, California, 1948 Silver Gelatin Print, 19x15.1", 48x38cm
One of Adams most famous images, a glorious single giant oak shedding snow on a crisp frozen day. This is quite rare compared to his other icons. You can hear the snow cascading down from the branches and feel the cold. 



AA/3078 Ansel Adams, Hollenback House, Santa Fe, Ca. 1932
Silver Gelatin Print, 6.875x9.5", 17x24cm Print Date: Ca. 1932
The high desert mountains of northern New Mexico, the Sangre de Cristos with their barrenness and clumps of trees and clouds became some of Adams most famous subjects.

AA/3079 Ansel Adams, Hollenback House, Santa Fe, Ca. 1932
Silver Gelatin Print, 7.375x9.5", 19x24cm  Print Date: Ca. 1932
The Hollenback sisters were two of a group of famous women patrons of the arts living in New Mexico in the first half of the twentieth century. With sculptured houses of adobe surrounded by soft and rounded pinon and juniper and storm clouds with added expressive emotion from the gray tones of his vintage prints.

AA/3239 Ansel Adams, Autumn Storm, Las Trampas, Near Penasco, NM, 1958
Silver Gelatin Print, 15.5x19.5", 39x50cm  Print Date: 1981
In this late print, made from the Museum Set edition, his last project, Adams found a few new magnificent images to bring out to the public, including this stormy day in northern New Mexico.






AA/3255 Ansel Adams, Grand Tetons and the Snake River, Grand Teton National Park, WY 1942
(oversized) Silver Gelatin Print 19x24", 48x61cm, Print Date: Ca. 1963
Large prints above 16 x 20" like vintage prints of his iconic images are the most valuable and sought after by knowledgeable collectors. This early 1960s print of one of Adams most famous pictures is the most valuable print in this group, though we have sold a number of vintage prints and larger mural prints of this and other iconic images for considerably more.



All images ©2019 Trustees of the Ansel Adams Publishing Rights Trust