From the David H. Arrington Collection:

Ansel Adams

Gems of New Mexico
Photographs from this collection are not for sale.
All images this page © 2014 Trustees of the Ansel Adams Publishing Rights Trust
Andrew Smith Gallery at 122 Grant Ave., Santa Fe, NM 87501, next to the Georgia O'Keeffe Museum, is currently exhibiting a selection of Ansel Adams photographs called Gems From New Mexico on loan from the David H. Arrington Collection, the most comprehensive, stunning group of original Ansel Adams photographs ever assembled by a private collector.
Gems From New Mexico includes classic photographs as well as seldom seen prints that demonstrate Adams's full range of vision from early soft-focused prints to crisp, dramatic expressions from his later years. The sixteen masterworks on exhibit were photographed in New Mexico from the late 1920s through the early 1970s. On view is the very first print ever made of the legendary "Moonrise, Hernandez, New Mexico" 1941. Also displayed are some of Adams's studies of New Mexico churches and spectacular, lesser-known landscapes taken at Ghost Ranch and Penasco. The exhibit continues through December 30, 2011.
Ansel Adams (1902-1984) is the great master of twentieth century photography renowned for his magnificent landscapes and other subjects. As dedicated and energetic in writing about photography as he was making it, Adams taught educators, curators, collectors, and millions of people worldwide about its aesthetic, spiritual and technical virtues.
Adams loved New Mexico and traveled there frequently to photograph its scenic and cultural wonders. In 1929 when he and his wife Virginia were in Santa Fe for an extended visit he even contemplated moving there permanently. He considered doing so again in 1960 when he moved away from Yosemite. Although he ended up being a life long California resident New Mexico was the location of many of his greatest feats of artistry. It was also where he encountered other extraordinary photographers, painters and writers of the era. Reflecting back on the time he spent in New Mexico Adams wrote in his 1976 book Photographs of the Southwest:
"I first came to Santa Fe in 1927 with Bertha Pope Damon and friend, and Albert Bender of San Francisco. . . .
This was our first trip east of the Sierra and the Cajon Pass. We wanted to see Mary Austin, Witter Bynner, Haniel Long, Andrew Dasburg, and many others who embraced the Southwest spirit in Santa Fe and Taos.
. . . wherever one goes in the Southwest one encounters magic, strength, and beauty. Myriad miracles in time and place occur; there is no end to the grandeurs and intimacies, no end to the revival of the spirit which they offer to all."
On an early 1927 trip to New Mexico Adams photographed Taos Pueblo, soon afterwards producing the magnificent limited edition book Taos Pueblo containing twelve original prints. Gems From New Mexico includes photographs Adams made for the book, as well as others taken there on a different occasion.
On his second trip to Taos Adams stayed at the home of Mabel Dodge and Tony Lujan where Paul and Becky Strand and Georgia O'Keeffe were guests. One evening Strand invited Adams to view a box of his 4x5" negatives. Adams described that pivotal meeting in his biography:
"My understanding of photography was crystallized that afternoon as I realized the great potential of the medium as an expressive art. I returned to San Francisco resolved that the camera, not the piano, would shape my destiny."
Undoubtedly Adams's most spectacular moment in New Mexico took place in 1941. Accompanied by his eight-year-old son Michael and their friend Cedric Wright, he was photographing national parks in California, Utah, Arizona and Colorado under the aegis of the Department of the Interior. Entering northern New Mexico on November 1, Adams spent the early afternoon taking pictures in the Chama River Valley before continuing south toward Santa Fe. Near the village of Hernandez Adams saw a spectacular scene; a full moon rising over snowcapped peaks lit by the late afternoon sun. In the distance lay a small adobe church and a cemetery filled with white crosses.
Adams once said, "Sometimes I do think I get to places just when God is ready to have someone click the shutter!" Here is his account of making "Moonrise":
"When I took my moonrise picture, the one with the church and the graveyard at Hernandez, New Mexico, I was driving back to Santa Fe from the Chama Valley and I saw this wonderful scene out of the window. The reaction was so strong I practically drove off the road. I got out the tripod and camera, took the front part of the lens off, screwed it on the back of the shutter and began composing and focusing. All the time I was trying to think of what I'd have to do to make the picture. I couldn't find my exposure meter, but I knew the moon's luminance was 250 candles per square foot and that was placed on Zone VII of the exposure scale. That gave me a shutter speed of a sixtieth of a second at f/8 with a film speed of ASA 64. The filter factor was 3X, so that made the basic exposure a twentieth of a second. I exposed for a long second at f/32, made one picture, and while I was turning the holder around and pulling out the slide to make a duplicate, the sunlight went off the crosses. I got the picture by about 15 seconds!
If I had spent more time in the Chama Valley, I would have missed the entire thing. If I had come home earlier, I would have missed it. So there's always an element of chance in photography. If you have practiced and practiced, the process is intuitive. You suddenly recognize something, and you react."
Adams came to New Mexico many times, but most notably, in the autumn of 1937 Georgia O'Keeffe invited Adams and David McAlpin to visit her in Abiquiu. Adams photographed her near her home painting the landscape. Afterward the three embarked on a camping trip through New Mexico, Arizona and Colorado, guided by Orville Cox, the head wrangler from Ghost Ranch.
In the autumn of 1958 Adams was back in New Mexico searching for photographs in the Sangre de Cristo mountains along what is today Santa Fe's road to the Ski Basin. Captivated by a stand of young aspen trees he set up his 8x10" camera and created two of his great masterpieces. As if to underscore New Mexico's magnetic attraction to other noted photographers of that era, Adams encountered two others shooting in the same grove; Eliot Porter and Laura Gilpin.
The following photographs are in the exhibit Gems of New Mexico

.
"Interior, Penitente Morada, New Mexico"
Negative Date: 1928
Print Date: ca. 1961
13" x 9.75" Silver Gelatin Print
(AA/1662)
An open doorway topped by an unusual pointed architectural shape reveals the inner sanctum of a Penitente morada. In the center of this humble, sacred space is an altar table covered with handmade crosses and statues. In the white washed wall a large Cristo bulto stands in a niche flanked by cheerful paintings of flowering plants, birds and angels holding a banner. A painted date of 1923 appears on the wall.

"New Church (erected about 1860, Taos Pueblo)"
Taos Pueblo, Plate V
Negative Date: 1929 ca.
Print Date: 1972
7.5" x 9.5" Silver Gelatin Print
(AA/1696)
This photograph is a study in repetitive forms that create a lively rhythm throughout the composition. The stair-step edges of adobe walls reflecting intense sunlight seem to ripple over the picture plane. Two ladders on either side of the church, one a positive form in sunlight and the other a negative form in shadow, are smaller versions of the same pattern. Two white wood crosses perched on top of the church and on an outside wall also mirror each other.
"Enchanted Mesa"
Negative Date: ca. 1930
Print Date: ca. 1930
7.75" x 5/875" Silver Gelatin Print
(AA/2315)
This relatively early Adams photograph of Enchanted Mesa is a richly toned vintage print from early in Adams's career. It has a soft-edged Pictorial quality, while at the same time demonstrating Adams's interest in modernist concerns. Enchanted Mesa is a massive sandstone butte in Cibola County near Acoma Pueblo said to be the legendary home of the Acoma people until severe weather destroyed the only approach. The butte's monumental shape dominating the picture plane contributes to the elemental power of this minimalist landscape.
"Chapel Near Hernandez, New Mexico"
Negative Date: ca. 1930s
Print Date: ca. 1930s
6.375" x 8.75" Silver Gelatin Print
(AA/1749)
This is a rather abstract photograph of an austere little chapel situated next to a small graveyard filled with white crosses. The chapel's unadorned, windowless facade containing a single white wood door is illuminated by intense sunlight. Its shadowy side is a black void. The chapel's severe geometry dominates the rectangular composition.
"Thunderstorm, Ghost Ranch, Northern New Mexico"
Negative Date: 1937
Print Date: 1976
10.25" x 13.5" Silver Gelatin Print
(AA/1671)
This is one of Adams's most spectacular New Mexico landscapes taken in the badlands near Ghost Ranch the same summer that he visited the home of Georgia O'Keeffe. Taken as a jet-black thunderstorm swept over the high desert, the photograph contains a full range of tonal values that describe sunlight and shadow rippling over mesas and mountains.
"Moonrise, Hernandez, NM"
Negative Date: November 1, 1941
Print Date: 1941
9.25" x 12" Vintage Silver Gelatin Print
(AA/1715)
This is the earliest known print from the negative. It was purchased from Adams by Marjorie and Sidney Liebes in late 1941 or early 1942 in honor of their 14th wedding anniversary (they were married on Nov. 24, 1927), and inherited by one of their sons. The Liebes were family friends of Ansel and Virginia Adams in the Bay Area and had spent time with them in Yosemite. Their two sons had even accompanied Adams on a photographic outing to Tuolumne Meadows.
The print is a slight enlargement of the 8x10" negative. It is remarkable for its excellent condition, its provenance and inscription. It is printed with a luminous range of subtle gray tones. Details in the land and sky are crisp and the ground appears slightly darker than the sky in which clouds are visible throughout. Probably fewer than 10 Moonrises were made prior to 1948 making these prints extremely rare.
In 1948 Adams intensified the lower half of the negative to increase the contrast in the churchyard cemetery. Later prints appear darker and darker until by the 1970s the sky is deep black, with no clouds visible above the level of the moon.
"[Sanctuario, Chimayo]"
Negative Date: 1950 Ca.
Print Date: Later
7.625" x 9.625" Silver Gelatin Print
(AA/1931)

New Mexican churches had a great appeal to Adams and he photographed many of them. When he took this extraordinarily beautiful photograph of the famous El Santuario de Chimayo in northern New Mexico it was still a family owned chapel. Two enormous cottonwood trees whose branches appear to shelter it frame the diminutive church centered in the photograph. The rims of its walls are delineated by bright sunlight.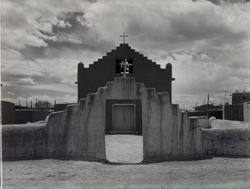 "[Church at Taos Pueblo]"
(no date)
10" x 13" Silver Gelatin Print
(AA/1933)
Adams captured the symmetry of a large adobe church bounded by an outer wall. The stair step shape of the church's pitched roof mirrors a similar pattern on the outside adobe wall in the foreground. A square entrance in the wall aligns symmetrically with the closed door of the church. This photograph beautifully conveys the emotional and spiritual power of monumental vernacular architecture.
"[Dust Storm, Taos Pueblo]"
(no date)
5.125" x 6.87" Silver Gelatin print
(AA/1942)
Adams made this atmospheric study on a windy spring day in Taos Pueblo. A brimming river in the foreground sparkles in the sunshine while in the distance the breeze whips up dust in front of the Taos Pueblo church.
"Ranchos De Taos, New Mexico"
(no date)
7.5" x 9.25" Silver Gelatin Print
(AA/1948)
Huge buttresses on the outside of Ranchos de Taos church dominate the right side of the photograph. Through the camera's lens its walls appear in diminished perspective moving toward a vanishing point. Their shapes are further abstracted by intense sunlight and strong shadows on the textured adobe walls.
"Autumn Chama Valley, New Mexico"
Negative Date: 1951
Print Date: unknown
9.5" x 7.375" Silver Gelatin Print
(AA/2217)
In this atmospheric gem that conveys the magic of northern New Mexico an effervescent grove of shimmering cottonwood trees fills the vertical picture plane, contrasting dramatically with the dark tones of the sky above.
"Autumn Storm, Las Trampas, Near Penasco, NM"
Negative Date: 1958
Print Date: ca. 1963
10.25" x 12.75" Silver Gelatin Print
(AA/1743)
Adams made this exquisite photograph as a summer thunderstorm swept through northern New Mexico. A secluded mountain valley is streaked with light and shadow as layers of gray and white clouds scuttle overhead. Winds shake the cottonwood trees, while in the distance a roof and tower of a country church are momentarily struck by sunlight. The photograph captures a fleeting moment in time, as evocative as an Impressionist painting.
"Detail, Interior Trampas Church, New Mexico"
Negative Date: 1960
Print Date: Ca. 1962-1963
7.125" x 9" Silver Gelatin Print
(AA/2278)
Adams made a close up of a 19th century New Mexican retablo by the master santero Rafael Aragon. The subject is the crowned Virgin and Child painted on wood. Laura Gilpin, Eliot Porter and Paul Strand also photographed New Mexico's unique religious folk art.
"Gate and Cross, Canyoncito, New Mexico"
Negative Date: 1961
Print Date: ca. 1967
12.5" x 9.75" Silver Gelatin Print
(AA/1668)
The centerpiece of this photograph is a large white cross, elegantly yet simply carved from wood, standing before the square shaped door of a church. The arms of the cross ending in sharp points, mirror the sharp tipped white washed picket fence in the foreground. These stark white forms contrast with the rich dark tones of the adobe wall of the church.
"Window, Northern New Mexico"
Negative Date: 1972
Print Date: 1972
13.25" x 10.5" Silver Gelatin Print
(AA/1699)
In this study of bold textures Adams shows the ruined beauty of a weathered window set in a crumbling adobe wall. Remnants of white washed paint articulate the shape of the window casing. Ancient slats of wood that resemble the lid of a coffin seal a relic of a bygone time, the window.
****
Andrew Smith Gallery will continue to host ongoing exhibits from the David H. Arrington Collection. David Arrington is a Texas oil man whose passion for Ansel Adams began when he was a young photographer. Over the years he redirected his energies to acquiring photographs by the master. Today his collection includes Adams's first photograph made at the age of 12 of the 1914 Pan Pacific Exposition in San Francisco, a substantial group of photographs made in Yosemite Valley in the 1920s and 30s, the earliest examples of Moonrise, Hernandez, New Mexico, 1941, as well as hundreds of lesser known images that convey the full scope of Adams's extraordinary vision.
Liz Kay