Andrew Smith Gallery presents a captivating exhibit by Jack Spencer titled,
Aparicioñes
. Spencer is an accomplished self-taught photographer whose umber-colored images of rural life in the American south and Mexico have been compared to the writings of William Faulkner, Cormac McCarthy, and Flannery O'Connor. His exquisitely crafted prints are the result of an exceptional vision, original darkroom technique, and a marvelous sense of story.
The deep South is in Jack Spencer's bones. Born in Mississippi and raised in Louisiana, Spencer is known for his photographs of humid bayou country, hard living black musicians, dogs cavorting, and just plain folk going about their business in the backwaters of the Mississippi River Delta. They are the subject of his first book, Native Soil, (1999). Traveling further south to Mexico, Spencer worked for three years on
Apariciones
, a series of over seventy-five images of people and landscapes filled with magical realism. A book of this work titled, Apariciones, will be published soon. Spencer's newest project is a series of landscapes from various parts of the United States simply called,
This Land
. A selection of photographs from all Spencer's series will be on exhibit at Andrew Smith Gallery through April 12, 2004.
If Spencer's photographs look distinctly different from other silver prints it is because he makes them with a unique technical process. The slightly out-of-focus quality of his prints is not achieved when the photographs are taken, but is produced in the darkroom when the negative in the enlarger is projected through various transparent materials, distorting the light slightly before it reaches the photographic paper. Spencer coats each silver print with an oil varnish medium tinted with subtle shades of earth-yellow or earth-red pigment to achieve a sepia color. He further "distresses" his images with coats of asphaltom that are applied and removed, along with tearing and denting parts of the print. All of this gives his images a patina suggesting age, history, and a sense of "long suffering." Darkroom ordeals over, the photographs have acquired a rich physicality that goes hand-in-glove with their content. Spencer's prints glisten with a soft tactility seldom seen in photography. Each photographic print is a unique object, although not dramatically so, as Spencer works in limited editions. Along with his 20" x 24" prints made in limited editions of forty or less, Spencer is now making large scale prints in limited editions of ten. His newest work includes limited edition digital prints.
Spencer has described his photographs as "metaphors that represent something primal in all of us." A master story teller, Spencer tends to place dominant subjects and objects, like the main characters of a short story, near the center of the picture plane. But the power of these images lies in what is not fully revealed. Each image contains clues, but not explanations of the drama unfolding. They are like stills from an Ingmar Bergman or Robert Bresson film; charged and fleeting moments that contains the essence, if not the details of a larger story. Captivated by their sheer beauty, the imagination wants to know more, and spins its own explanations.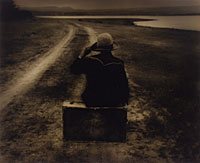 In
Hombre Que Piensa En Irse', San Miguel
, 2002, a lone figure sits on a battered suitcase in the middle of a dirt road that winds over a bare field toward a lake. The figure, (it could be either a man or woman), holds the brim of a hat in a gesture of expectancy, as if a wind might suddenly blow it off, or a bus might be coming soon. Nothing is happening, but change seems imminent. Questions race through the viewer's mind. Is the figure running away from something? Are they headed toward a brighter future? Will a bus, car or wagon ever come? What will happen on the journey, and how will it end?

Many of Spencer's Mexican photographs evoke the power of rituals, initiations or sacred festivals. Light and shadow play over the surface of
Boy With Mask, Oaxaca
, 2000. A bare chested adolescent boy wearing stained white trousers looks into the distance under a turbulent cloudy sky. He holds up a skull-like mask embellished with long, hairy fibers. Its hollow eyes stare in the same direction the boy is looking. The boy's expression is intense, even worried, with something like regret in the eyes and half open mouth. The landscape is dark and empty. Whatever grave event has happened or is about to happen, one feels that this boy must face it on his own.
Other photographs are whimsical, even humorous. A delightful willo-the-wisp energy stirs ocean waves, lifts the flouncy skirts of young ballerinas, sways tire swings hanging from a tree, and billows a lace scarf worn by a lovely young woman. In the photograph,
Sunday Dress
, 1997, a young black girl dressed like a bride dashes through an avenue of grass taller than her head.
Spencer is especially drawn to those who have survived hardships. We see life's fighting spirit sparkling from the bright eye of a rooster, etched in the wrinkled lines of a worker's hand, and in the garrulous squint of an old man's stare.
Willie Mae and the Milo Field, Marks, MI
, 1988, is a study in stoic perseverance. Wearing a hat, dress, and apron, Willie Mae has clearly worked hard all her life. She stares soberly at cultivated fields and forests, her hand clenched
at her side, as if she has seldom known a day's rest. In
Gussie's Magnolia, La Grange, TN
, 1997, an elderly black woman with a flat, tired face delicately holds out a symbol of her true being -- a perfect white magnolia flower.
Many of Spencer's works suggest an introspective, allegorical dimension; the soul struggling with thoughts of mortality, loneliness, and failure. The haunting image,
Bridge Over Bayou Techne, Breaux Bridge, LA
, 1996, is an elegant study of a bridge over a misty river. A damp fog softens the hard lines of the protective bridge railing above a beguiling river that vanishes into mist and oblivion.
Carnival Cloud, Santa Monica, CA
, 2000, is a glancing view such as one might see from a moving car at dusk. In the distance are dim silhouettes of a ferris wheel and a roller coaster against an indistinct sky. These shapes hold the promise or memory of pleasure, but they are slipping passed as darkness encroaches from all sides.
Spencer has said of his work, "Photographically I approach my work in an expressionistic way. I am not documentary in any traditional sense. In fact, I steer away from that form. I am, however documenting . . . in my own subjective way, history and viewpoint."
A native of Kosciusko, Mississippi, Spencer now lives in Nashville, Tennessee. His photographs have been exhibited in galleries throughout the country, acquired by museum and corporate collections in the United States and abroad, and published in Photo Metro, Oxford American, and American Way magazines.
Liz Kay