ZIG JACKSON
Signs of Soveriegnty
Andrew Smith Gallery Arizona LLC is pleased to announce an exhibition by Zig Jackson Signs of Soveriegnty. There will be an opening reception with the artist on September 23th, 2023, from 7:00-10:00 pm. The exhibition will continue through November 25, 2023.

This exhibition focuses on two areas that have attracted Jackson's interest for 40 years — The signs that announce your arrival on a Native American Reservation and the cultural tourism of roadside attractions that are like side shows at the edges and interiors of reservations.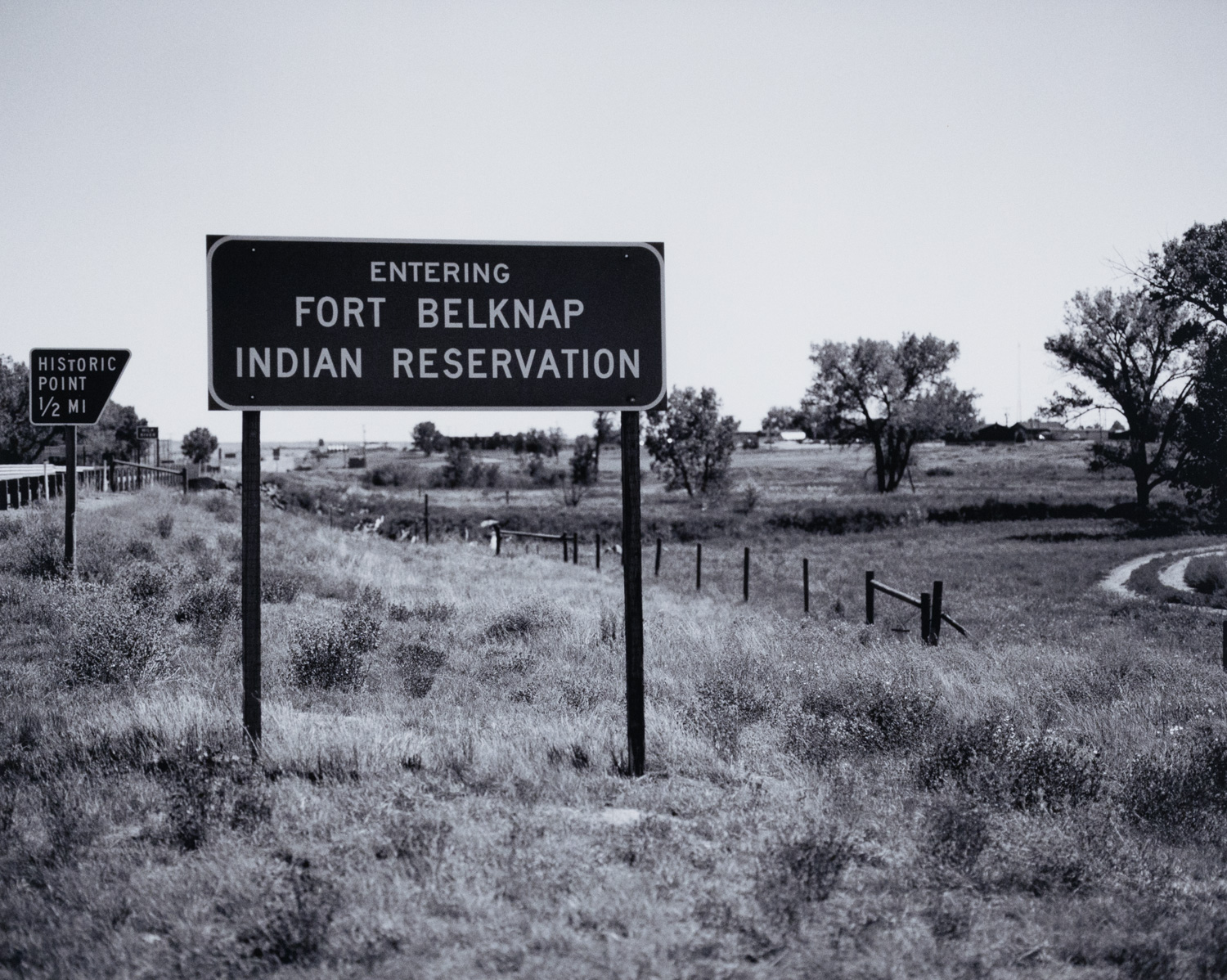 © Zig Jackson. Entering Fort Belknap Indian Reservation, Harlan, Montana, 2006, archival pigment print 16x20", printed 2010, 22x24" ZIG/1641

Zig Jackson was raised on the Fort Berthold Indian Reservation in North Dakota and is an enrolled member of the three affiliated tribes: Mandan, Hidatsa, and Arikara. After attending boarding schools in the Dakotas and Utah he attended college in Oklahoma, and then studied in the photography program at the University of New Mexico. Jackson moved to San Francisco, California, to attend the San Francisco Institute of Art, where he earned his Master of Fine Arts Degree. He recently retired as a professor at the Savannah College of Art & Design (SCAD). In 2021, Zig became the first Native American photographer to be awarded a Guggenheim in photography.


© Zig Jackson. Entering Picuris Indian Reservation, New Mexico, 1986, archival pigment print 16x20", printed 2010, 21.5x24" ZIG/1649

Zig Jackson uses photography to de-mythologize his own history and to break down the romanticized stereotypes of "Indians" perpetuated by popular media and folklore. When he was young, Jackson had an intense desire to meet as many Native People as he could. Over the years he has done just this, traveling extensively throughout the United States. Exposed to so many different tribal groups he has gained considerable perspective on issues important to Native People. Thus, he tends to be warmly welcomed wherever he goes, and invited into homes to rest and eat. Indian tribal groups are as culturally diverse as the regions they inhabit, distinguished from each other by appearance, language, and social mannerisms. And yet they all share the reality of being, at times, strangers in what was once their own land. They share in the aftermath of the advance of "civilization" and government policies that forced them from their homelands and onto reservations and their children into boarding schools at a young age. In the straightforward photographic style of Robert Frank and Walker Evans, Jackson captures the world of contemporary Native Americans, touching upon complex issues of tourism, marketing, myth, power sites, traditions, and stereotyping.
© Zig Jackson. Entering Ute Mountain Indian Reservation, NM., Colorado, Utah, Az, 1987, silver gelatin print, 14.4x18.5", printed ca. 1989, 16x20" ZIG/1600

When tourists (anyone who is not a tribal member) drive through a reservation they are presented with signage that either marks the sovereign territory of an Indian Tribe or a sign that is advertising authentic tribal arts and crafts. When they cross into that Sovereign Nation, visitors know there are different rules about living there, buying property, and opening businesses, and they are not welcome to freely drive through the neighborhoods.



© Zig Jackson. Entering Omaha Indian Res., Nebraska, Omaha Indians, 2009, archival pigment print 16x20", printed 2010, 21.2x24" ZIG/1630
When Zig Jackson is passing into a Reservation, a Sovereign Nation, a Country, within the United States, his first thoughts are prayers to the land and earth, sometimes with a personal tobacco ceremony. He is welcomed when he visits friends and tribal members with whom he shares the common experiences and different tribal traditions of sovereignty, historic genocide, and displacement. For Zig, each Sovereign Nation celebrates the similar and diverse experiences and history of all Tribal members and each Sovereign Nationís Reservation sign is generally welcoming rather than restricting.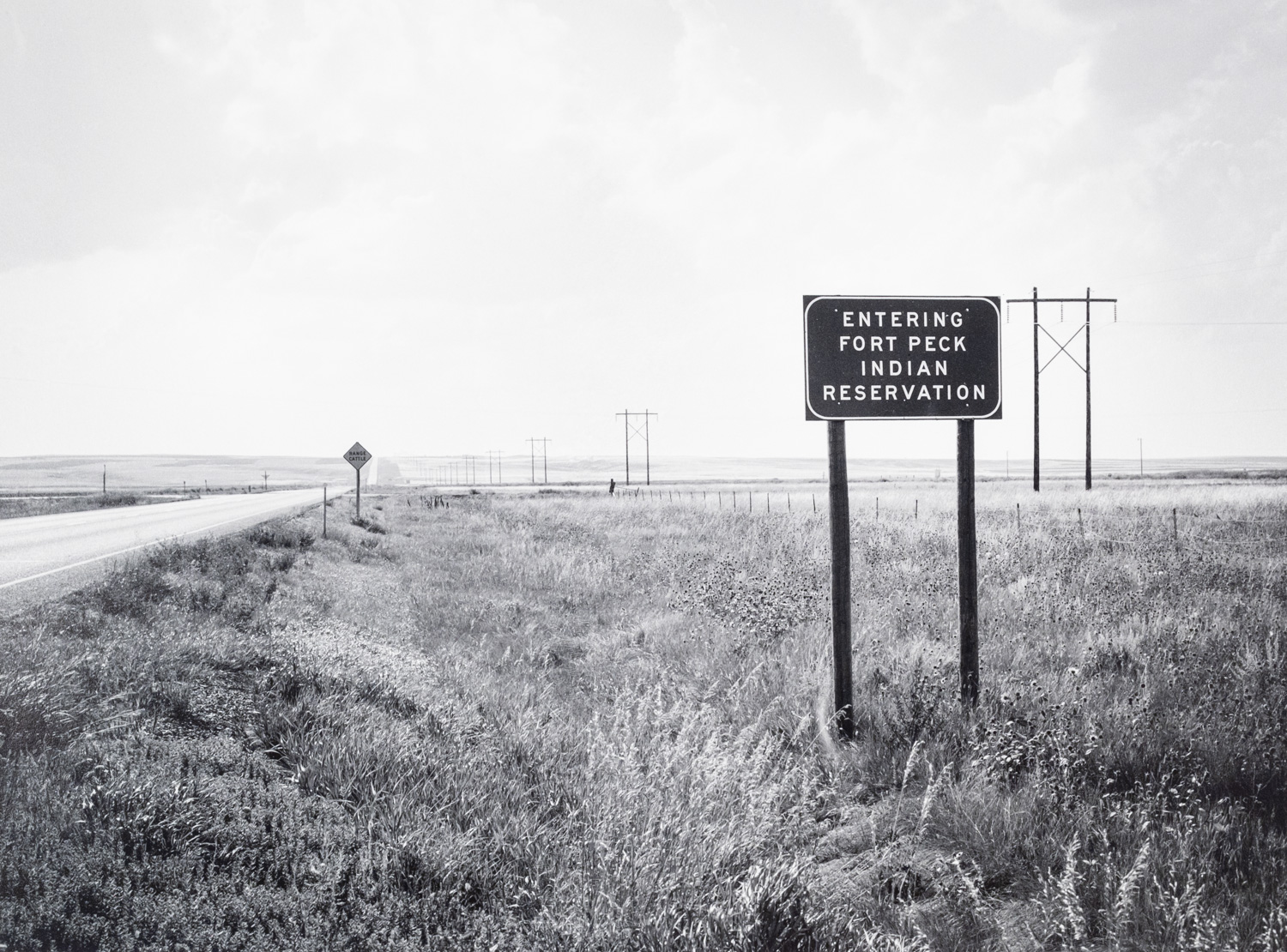 © Zig Jackson. Entering Fort Peck Indian Reservation, Assiniboine, Dakota, Montana, 1989, archival pigment print, 16.3x22", printed 2015, 20.5x25" ZIG/1651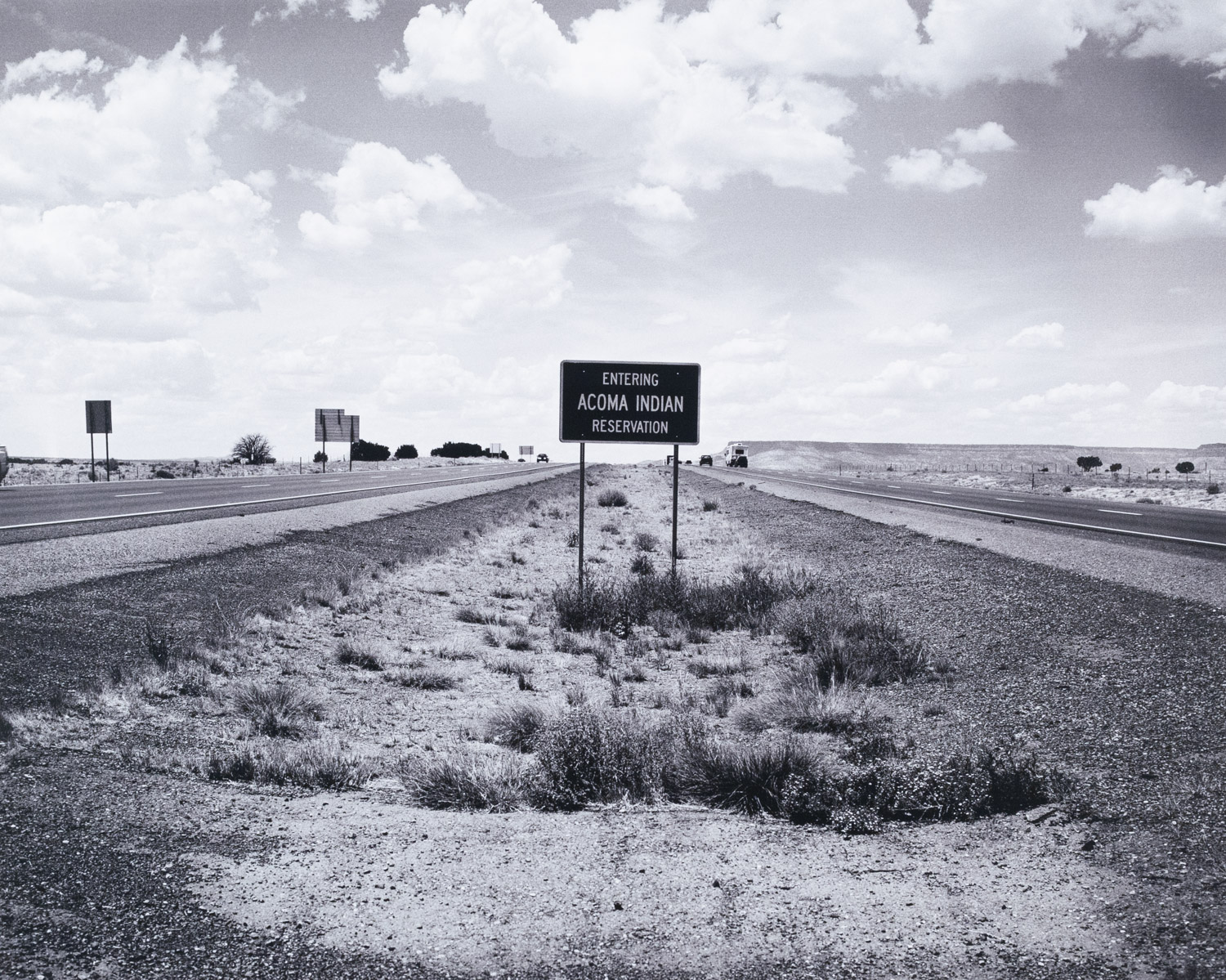 © Zig Jackson. Entering Acoma Indian Reservation, I-40, New Mexico, 1995, archival pigment print 16x20", printed 2010, 21.5x24" ZIG/1620
© Zig Jackson. Entering Winnebago Indian Reservation, Nebraska, 2009, archival pigment print, 16x20", printed 2010, 22x24" ZIG/1646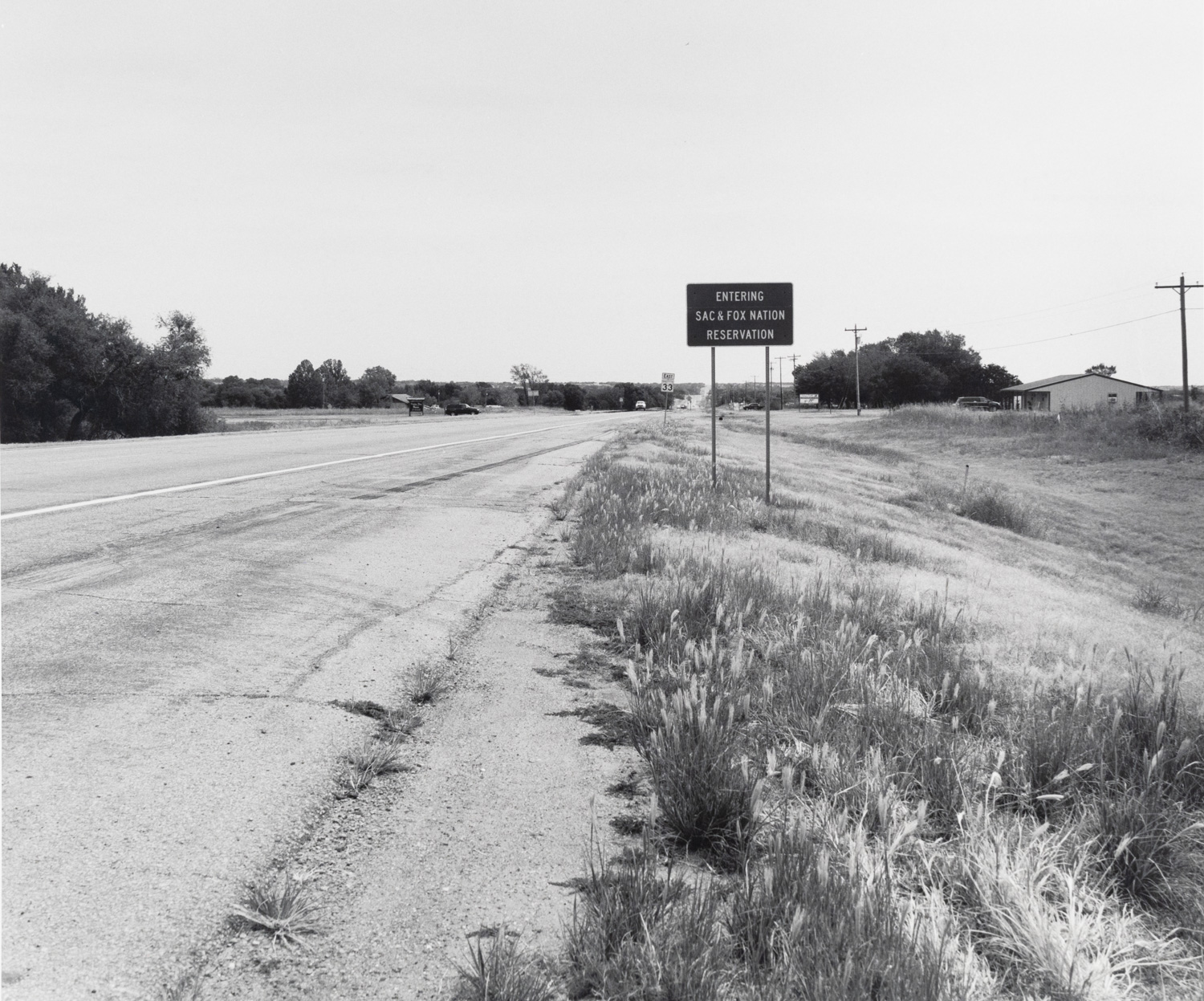 © Zig Jackson. Entering Sac & Fox Indian Reservation, Oklahoma, 2001, silver gelatin print, 17.3x20.6", printed ca. 2001, 20x24" ZIG/1605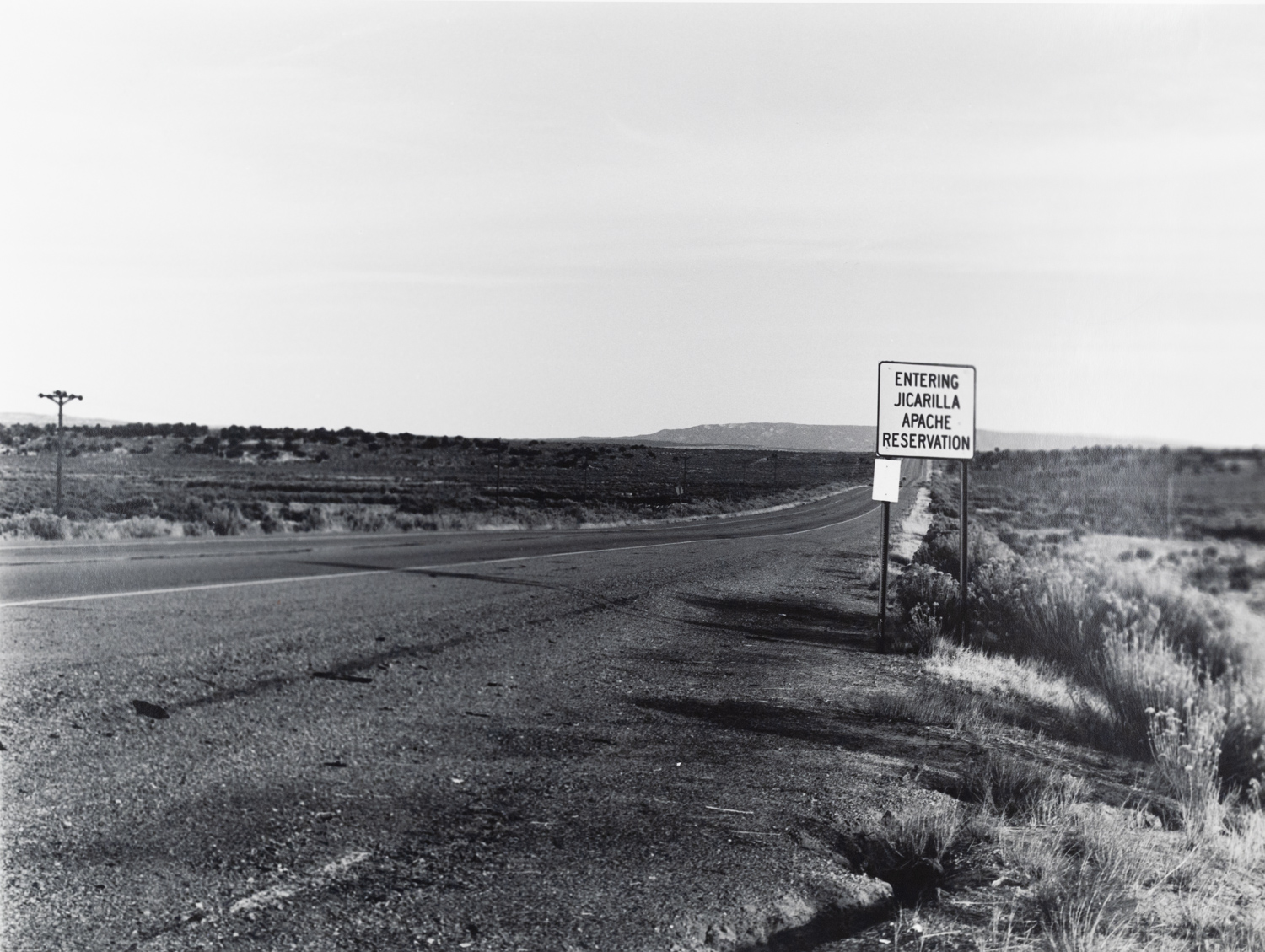 © Zig Jackson. Entering Jicarilla Apache Indian Res., NM, 1988 silver gelatin print, printed 2012, 20x24" ZIG/1611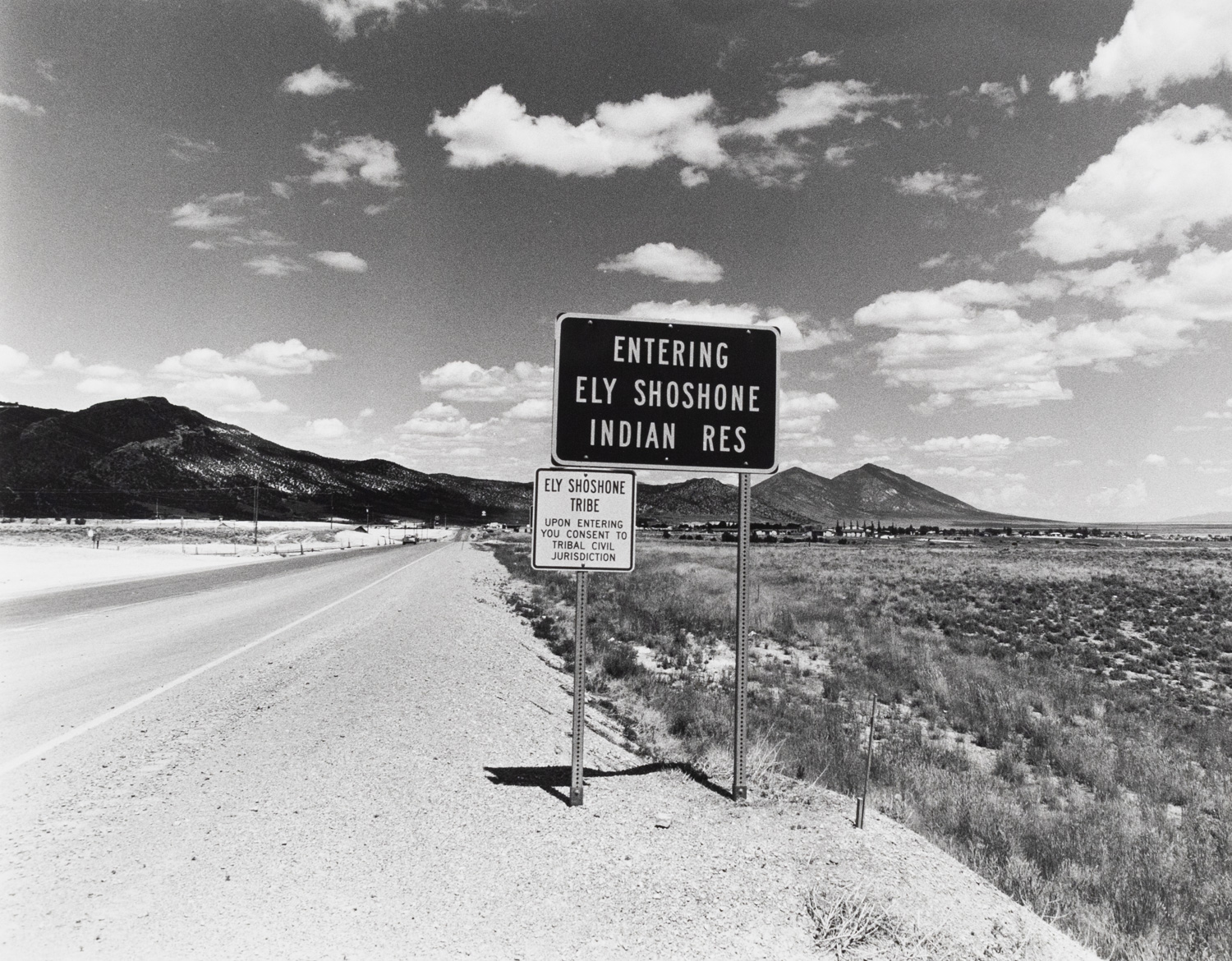 © Zig Jackson. Entering Ely Shoshone Indian Reservation, Ely, Nevada, 1990, silver gelatin print, printed 1994, 16x20" ZIG/1591


Roadside Attractions
The Roadside Attractions are centers for commercial transactions and social interactions between non-Indigenous people and tribal members. Here the trading post peddles authentic handmade arts and crafts made by tribal members side-by-side with identical arts and crafts mass-produced at factories in foreign countries. The tourist gets a cultural souvenir whose maker is as nameless as the bead workers at Niagara Falls of the 19th Century, or the weavers, basket makers, silversmiths, and potters selling at the Fred Harvey Hotels of the 20th Century; each object represents an authentic experience for the white person whether authentic or fake.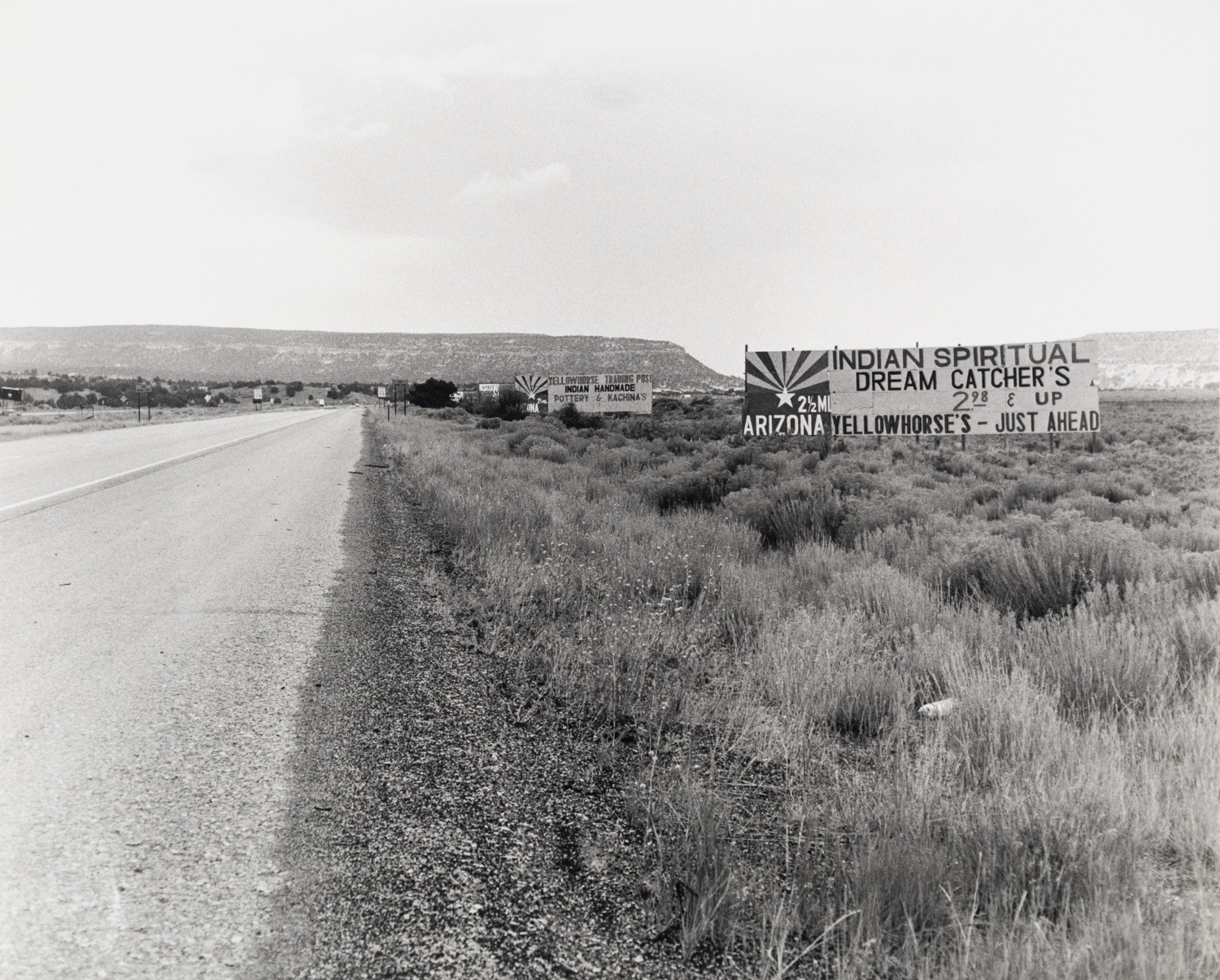 © Zig Jackson. Indian Spiritual Dreamcatchers, I-40, New Mexico, 1998, silver gelatin print, 15.4x19.3", printed 2000, 16x20" ZIG/1726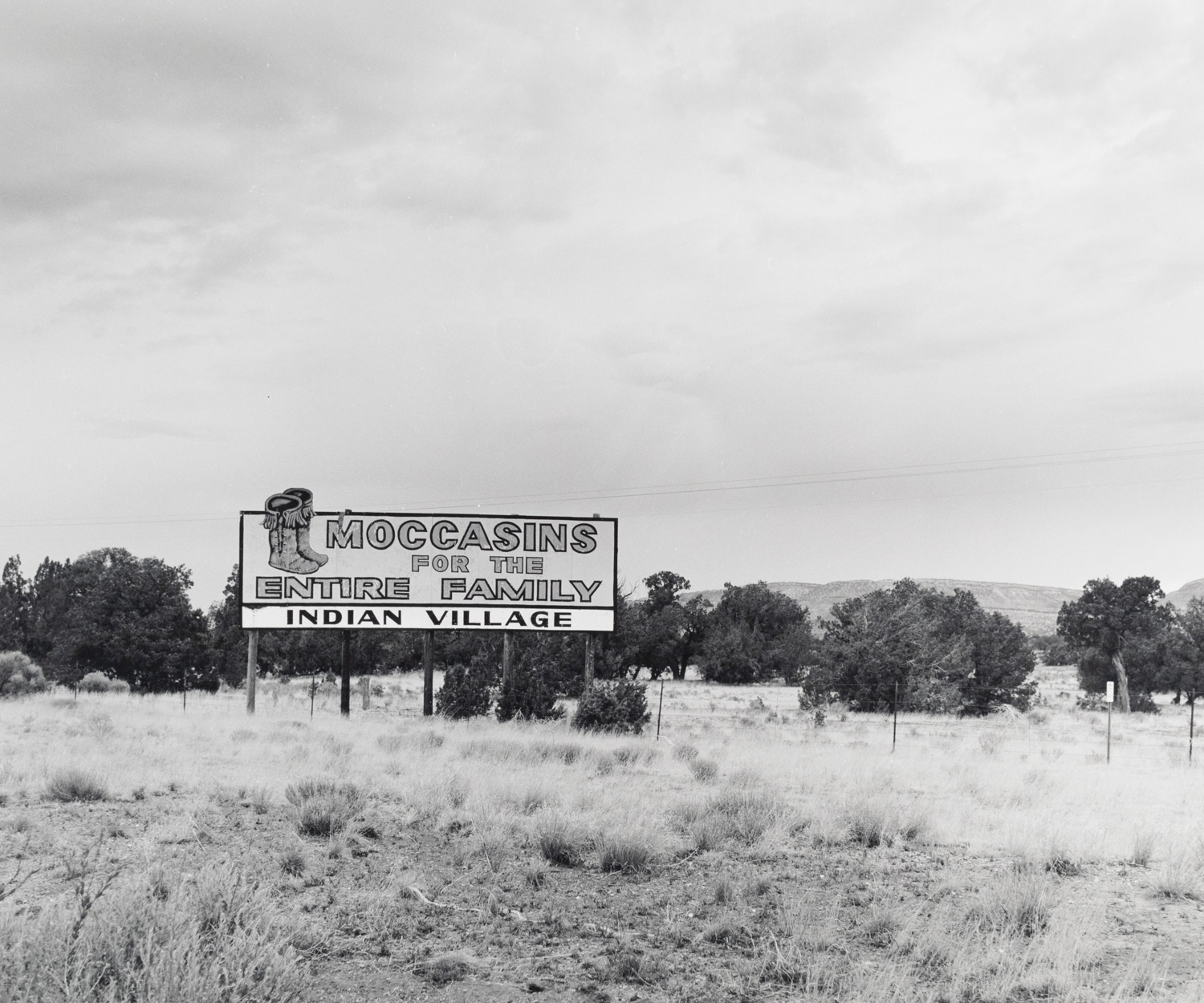 © Zig Jackson. Moccasins for the Entire Family, I-40, NM/AZ, 1997/1998, silver gelatin print 17x20.5", printed ca. 2003, 20x24" ZIG/1742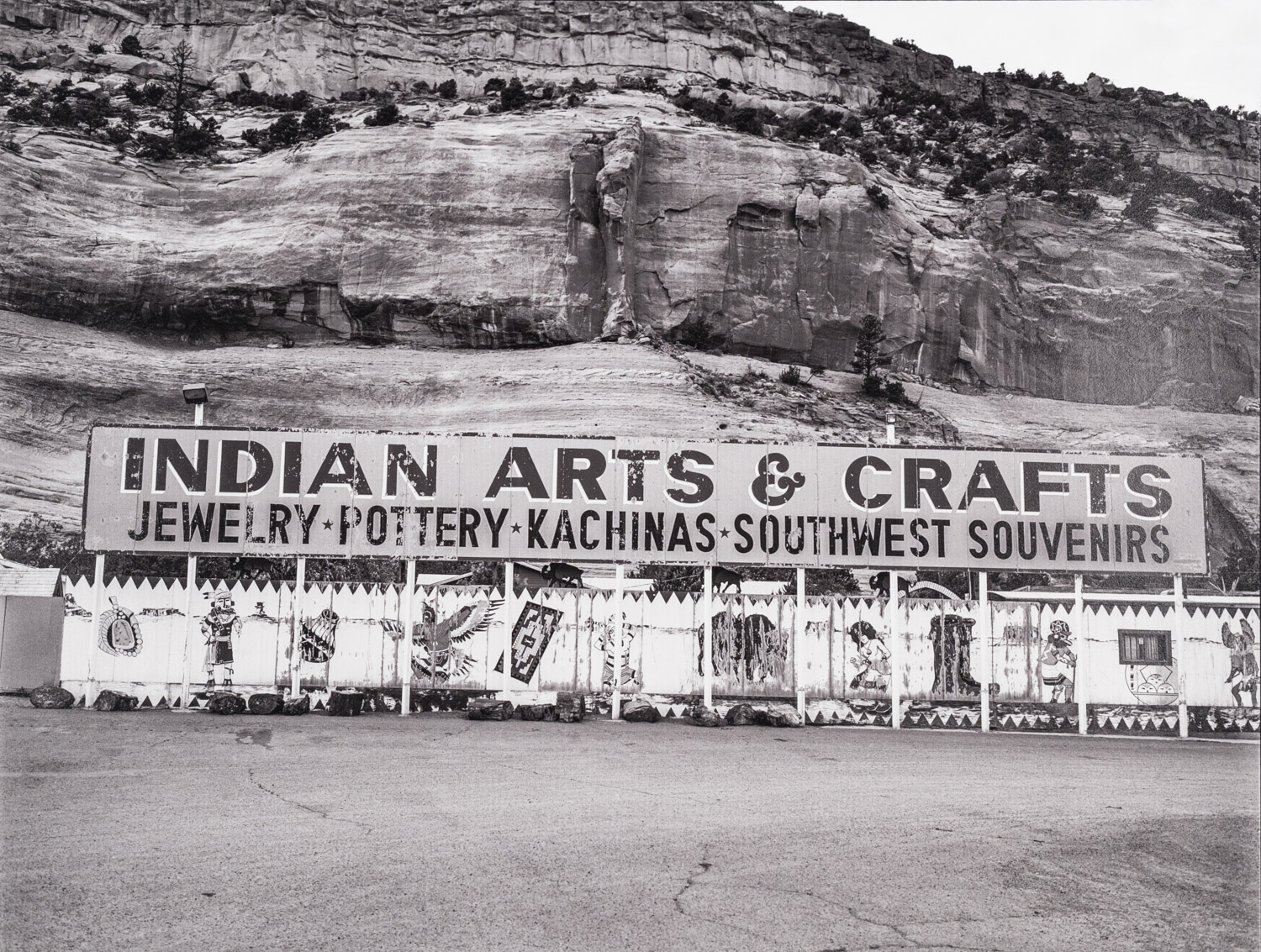 © Zig Jackson. Indian Arts & Crafts Gift Shop, I-40 AZ/NM, 1997 archival pigment print 15.6x20" , printed ca. 2005, 18x22.5" ZIG/1773
© Zig Jackson. Welcome to Indian City Reservation, I-40, New Mexico, 1992, silver gelatin print 18x21", printed ca. 2000, 20x24" ZIG/1769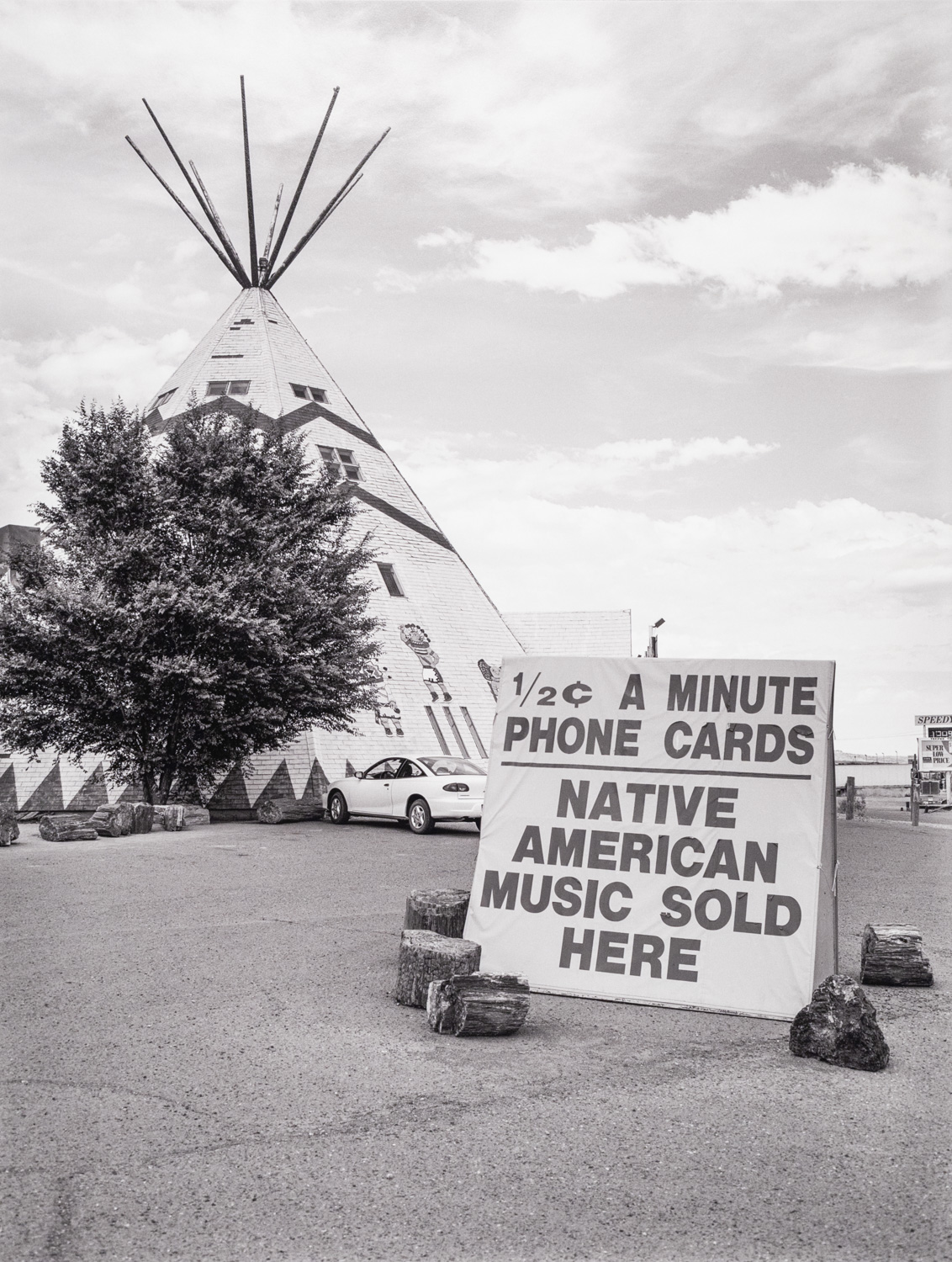 © Zig Jackson. Native American Music Sold Here, Indian Arts & Crafts, AZ/NM, 1997 archival pigment print 19.7x15.5", printed 2010, 23x18" ZIG/1771



© Zig Jackson. Tipi Encampment, I-40, Arizona, 2004 silver gelatin print 17.8x21.2", printed ca. 2000, 20x24" ZIG/1755



© Zig Jackson. Jicarilla Apache Tipi Wayside Rest Area Stop on NM 44 (now 550), 1998 silver gelatin print 13.5x18", printed ca. 2000, 17x22" ZIG/1733
Patrick Nagatani
Excavations
The gallery will also be featuring a small exhibition of work from Excavations by Patrick Nagatani. Nagatani was a mentor of Zig Jackson's while he studied at the University of New Mexico.

The Nagatani/Ryoichi Excavation project is built around a fictional narrative that offers an account of excavations undertaken by an enigmatic Japanese archaeologist, Ryoichi. In 1985, Ryoichi and his team received a set of maps that were interpreted as pointing to sites scattered throughout the world. The sites were in areas with significant archaeological or historical remains - Chaco Canyon, Herculaneum, Stonehenge - or with monuments to our technological age - The Very Large Array, Kitt Peak National Observatory. The archaeologists spent the next fifteen years secretly excavating the sites marked on Ryoichi's map.

In Excavations, Nagatani delves into the field of archaeology and the "malleable picture space" of the photograph. Excavations is an intriguing series of thirty Ilfochrome and silver print photographs that explore the thin line between reality and illusion, and the ways in which photography creates, recreates, or supports a particular history. Nagatani also enlarges his alter ego, Ryoichi, as he moves from first to third person in his narrative.




© Patrick Nagatani. Bentley, Stonehenge, Salisbury Plain, Wiltshire, England, 1987, 1998-1999, silver gelatin print, 17.5x22.8", 1999, 20x24" PN/2073
© Patrick Nagatani. Mercedes, Grand Canyon, Arizona, U.S.A., 1994, Ilfochrome print, 17.75x22.8" 1998, 20x24" PN/2036

In the Excavations work Nagatani has presented himself not only as storyteller but also as documentary photographer. In these pieces there exists an underlying conflict between the fictional nature of the storyteller and the factual nature of the documentary photographer.



©Patrick Nagatani. Ferrari, Herculaneum, Italy, 1989, 1989, Ilfochrome print, 17.75x22.8", 1998, 20x24" PN/2047

Nagatani's project is presented in a museum format with text panels, documentation, journal entries, false personae, and found objects. There are, however, subtle but crucial differences. At times Nagatani wears his contrivance on his sleeve. Upon careful examination, one can detect scale differences and automobiles in too perfect preservation. This must be an obvious intention. Somewhere in the middle of reality and illusion is the Michael Crichton, Timeline-like premise that time travel is possible, although Nagatani suggests that time might not be linear but that a space-time continuum exists within a looping time theory.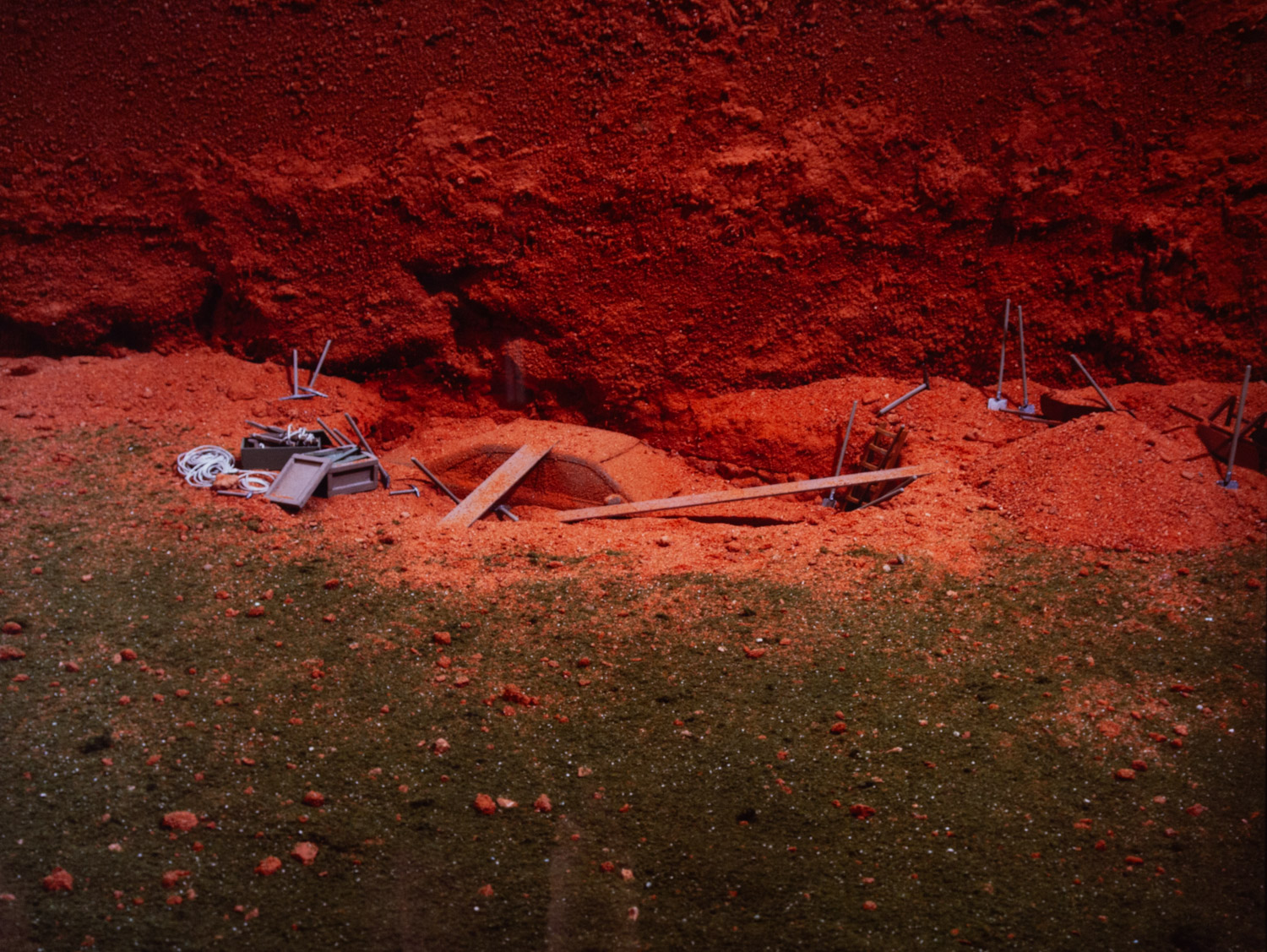 ©Patrick Nagatani. Infiniti Jemez Pueblo, New Mexico, U.S.A. 1996, 1996-1997 Ilfochrome print, 17.75x22.8", 1997, 20x24" PN/2065

©Patrick Nagatani. BMW Roadster, Olduvai Gorge, Tanzania, 1987, 1998-1999, silver gelatin print, 17.75x22.8", 1999, 20x24" PN/2072

My photographs of Ryoichi's excavations present a temporal paradox - evidence of an automobile culture which seems to parallel that of our own twentieth century but found in widely disparate places and times. I follow Ryoichi's single-minded, almost obsessive campaign until the team confronts the last site. We read and come to know "deep history" - past before written record - from archaeological sequences read as text. The maps, the site plans, the careful record of successive layers of habitation - photographed, these elements of archaeological evidence insist on their truthfulness as scientific discourse and photographic record. I layer the elements we accept as scientific record to construct an alternate reading of the past, and alternative stratigraphy of truth and illusion. With this project I hope to challenge us to examine the ways in which photography creates, recreates, or supports a particular history. I want to consider what we accept as evidence and why. I hope to orchestrate our understanding of the archaeologists' quest and suggest that it may have meaning for our own approach to the unknown. -- Patrick Nagatani