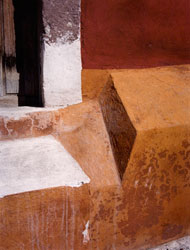 Duane Monczewski
Calle De Luz - Street of Light

Exhibition Dates: October 2, 2009 - November 14, 2009
Artist Reception and Booksigning: Friday, October 2, 2008, 5:00 - 7:00 p.m.

"Color photography has an emotional tone, but it is a little lighter, more fun and decorative than black and white. I want people to feel that this lightness is ok when they look at my photographs." --Duane Monczewski, 2008
Andrew Smith Gallery at 122 Grant St., Santa Fe, NM 87501 opens the Fall season in its new location next to the Georgia O'Keeffe Museum with a show of brilliantly colored photographs of street architecture by Santa Fe artist Duane Monczewski. Mr. Monczewski will be in the gallery for the opening reception on Friday, Oct. 2, 2009 from 5 to 7 p.m. to meet the public and sign copies of his new publication, Calle de Luz: Street of Light. The exhibit continues through November 14, 2009.
Duane Monczewski has spent the last thirty years photographing street scenes in Juarez, Nogales, Tasco, Tijuana, Acapulco, Puerto Vallarta, Tucson, New Orleans and elsewhere. In Monczewski's photographs rickety gates, cracking plaster, rusty electric meters, iron grilled windows, painted doors, word embellished storefronts, and bold advertising form unexpected conjunctions. Like Walker Evans and Edward Weston, Monczewski selects units of information out of the visual environment, photographing anything and everything that appeals to his sense of composition. But there is a lightness and often a wry humor to his sensibility, more aligned with the way Lee Friedlander makes us smile at the whimsical world we create and inhabit.
Monczewski haunts old quarters of cities where colors appear, as he says, just on the other side of convention. Color is of primary interest to him, and he is drawn to places where lipstick red, avocado green, linoleum black, coral pink, chalk white, and eye-popping turquoise suggest the wide variety of taste residents taking full advantage of. He prints his own photographs in the darkroom, staying true to these off-kilter colors.

Monczewski is interested in the elemental facts of picture making -- space, color, light and shadow. His photographs come close to being pure acts of seeing, free of judgments, preconceived notions, prejudices or dogmas. Although grounded in down-to-earth subjects, the images are primarily juxtapositions of abstract shapes and geometric patterns splashed with vivid colors. But embedded in the sensual hues and textures are cool and calculated compositions, as cohesive as building blocks locked into irregular grids. This solid geometry combined with eye-pleasing surfaces gives each photograph a satisfying blend of elegant order and wide open possibilities.
Musical Wall, Juarez, 1989
On one of his trips to Juarez Monczewski parked his car at the border and walked into the city with his camera in search of an old cemetery some two to three miles from his point of entry. On route he discovered a building painted deep turquoise with scarlet shutters whose wall had recently been painted with large musical notes and a yellow guitar. He photographed the dancing notes and guitar floating on the blue wall, emphasizing the brilliant colors contrasted against the cool gray sidewalk.



White, Blue Wall, Espanola, 2006
Certain places are touchstones for Monczewski. In the heart of Espanola, New Mexico, between a donut shop and Matilda's Restaurant, he has often photographed a deteriorating white wall with gray and blue paint scumbled in broad patches. Cracks in the plaster and scrawled red graffiti have resulted in a surface as enigmatic as a Cy Twombly painting. The photograph invites us to contemplate the passage of time as a human-made form evolves into a nature-made one.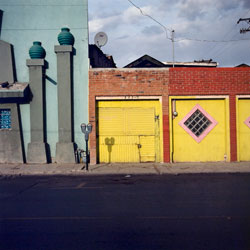 Blue Barrels, Ciudad Juarez, 2007
There had been so much rain in Juarez that locals were afraid a nearby dam would give way and flood the city. Monczewski, working during a break in the storms, was aware of a special brilliance to the rain washed atmosphere. He spotted three barrels painted midnight blue that had been placed next to a wall painted half blue and half ochre, with two grid windows carefully painted in bright colors. Someone had clearly enjoyed decorating this inauspicious space and put a lot of effort into embellishing it. Monczewski responded to the strong colors and solid geometry of the scene.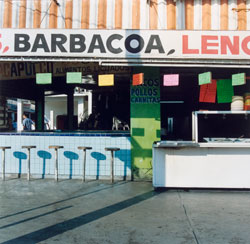 Barbacoa, Acapulco, 1989
In Acapulco Monczewski was intrigued by a line of stools in front of an open-air restaurant where green, yellow, red and pink menus dangled like small flags from the open windows. Shadows cast by the stools appeared pure turquoise against the sky-blue tile wall.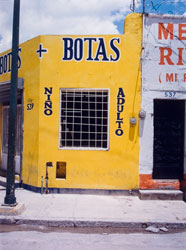 Botas, Juarez, 2006
On a street corner in Juarez Monczewski photographed a narrow building painting chrome yellow and with the words "botas," "nino" and "adulto" painted boldly in blue. A large window with a metal grid became the focal point of the photograph, while architectural elements added to the building block composition. Its vibrant yellow color intensified by sunlight, and a grid covered window added to its strong graphic quality. So mesmerized was Monczewski by the unusual liberties of the architecture that only later did he notice how unusually small the building was.
Pilas, Eye, Juarez, 2006
Asked about what goes into making a good picture, Monczewski has half-humorously replied that at times he has a physical feeling that the composition is looking back at him. In Juarez he photographed a large building decorated with blue eye with long lashes, a pill bottle and a box. Monczewski was not only intrigued by the eye-catching jumble of colors, textures, images and words, but was amused that in this case an eye was actually looking back at him. It was a literal realization of an idea he has had for a long time.



Blue Wall and Door, Tucson, 1991
Monczewski was wandering around south Tucson early one the morning looking for photographic subjects when he spotted a small apartment painted violet-blue with a turquoise door and window sill. Stumpy cactus grew in the dirt next to the wall and a illuminated porch light added to the feeling of magical realism. The subject was in a shadowy area, and the colors were close in value; a lighting situation that wasn't typical for him to shoot in. The monochromatic scene has a restful feeling and the square format adds to the formality of the scene. The photograph is memorable, like a stage set poised for a drama to begin.




Duane Monczewski grew up in Detroit, Michigan. At the University of Michigan he studied photography, experimenting with different methods, and drawn to the vitality of the disjointed urban images by Robert Frank and Lee Friedlander. In 1981 he moved to Santa Fe to teach photography at the University of New Mexico's Los Alamos campus. He has been working in color since 1988, considering it an extension of his black and white work. Monczewski shoots with medium format cameras and 35-mm. He uses color negative film and prints his 16" x 20" and 11" x 14" open edition C Prints (color coupler prints) in the darkroom. His work was included in several traveling exhibits sponsored by the Smithsonian Museums and Harvard University.
Liz Kay