Joan Myers

Wondrous Cold:
An Antarctic Journey

November 28, 2003 - January 15, 2004
"Why does Antarctica matter? Why go there? Why have men and women risked life and limb in such a hostile environment? Why do we still spend money for research there? This photographic project, with its resulting exhibitions and book, will suggest answers to these questions by linking the past years of exploration visible in historic huts with the ongoing research at McMurdo, field stations, and the South Pole, as seen in the structures that cling to the Antarctic ice and in the faces and stances of those who work there."
Joan Myers
Andrew Smith Gallery presents a fascinating exhibit of new photographs by Santa Fe artist Joan Myers titled Wondrous Cold: An Antarctica Journey, opening Friday, November 28, 2003, with a reception for the artist from 5-7 p.m. Joan Myers is one of New Mexico's most intelligent and prolific artists. Over the last twenty-five years she has produced photographic projects and books about the Santa Fe Trail, Japanese relocation camps, images of older women, the pilgrimage route to Santiago de Compostela in northern Spain, and the environment of the Salton Sea near Palm Springs, California.
The scope of Myers' experiences in Antarctica is, in a word, breathtaking. Long fascinated with the South Pole, Myers planned her trip for over three years before she was chosen by the National Science Foundation to participate in their 2002-2003 Antarctic Artists and Writers Program. She spent four months based at McMurdo Station where temperatures were often sub-zero, with wind chills as low as -60 degrees. Simply keeping her fingers warm enough to operate her camera equipment outside was one of many challenges she faced daily.
Co-sponsored by the Marion Center for Photographic Arts at the College of Santa Fe, Myers will give a lecture and presentation at Tipton Hall, Visual Arts Center at the College of Santa Fe, December 1, 2003, at 7:00 p.m.
According to Myers, "
Antarctica has never been inhabited. It remains an alien outpost, overcast and harsh, colonized by a few hundred scientists who find themselves perched on the surface of a world mostly unphotographed. It is the most mysterious and intriguing setting I've ever encountered
."
Unlike the vast team of specialists working on specific projects throughout the area, Myers was free to roam with her cameras around the scientific complex where she talked to and photographed the "family-like culture" of "Polies." No subject escaped her interest inside the station: plumbing, waste disposal, water storage, refrigeration, aquariums, greenhouses, kitchens, menus, scientific experiments, and holiday celebrations.
Myers spent most of her time at McMurdo, but also took frequent trips away from it. She traveled by planes, helicopters, tractor-like vehicles, snowmobiles, sleds, and on foot through a frozen world of geologic wonders where she interviewed and photographed people doing field research on the cutting edge of science. She also took countless pictures of historic huts, active volcanoes, fields of sea ice, blizzards, islands, seals, penguins, fish, fossils, meteorites, crevasses, glaciers, and icebergs. Myers even compared subtle cultural differences in the way Italy, New Zealand and the U.S. operate their Antarctica stations, noting that while the U.S. may have the best scientific equipment, the Italians have a cappuccino machine. Thus she photographed and wrote about virtually every aspect of current life, all along recalling the ordeals of the early British explorers.
In the 1910-1913 British Antarctic expedition, Captain Robert Falcon Scott and four of his companions died on their return journey from the South Pole. Herbert Ponting was the photographer of the expedition His photographs recorded the ice covered continent and the men's daily life aboard ship and on land. Ponting's insistence that his subjects pose for his camera until nearly frozen inspired one of his companions to coin the word: to "pont." Myers photograph, Ponting's Darkroom, taken in Scott's perfectly preserved hut, shows wooden shelves containing bottles and beakers for photo chemicals, stacks of trays that once held photographic prints, and a candle-powered safety light for developing film. Photographing inside the hut was difficult. It was very cold and so dim that the visitors had to use a flashlight to see what was on the shelves. Myers had brought an external battery which she wore under her parka, which ran both her camera and flash. To her relief her digital camera saw more details in the room than she did.
Even short trips away from McMurdo were often canceled because of storms. During one blizzard Myers wrote in her online journal, "
The whole Crary lab building is shaking with the force of the wind, now gusting to over 50 mph. . . . blowing snow looks like the billows of the sea
." In the photograph Blizzard, a solitary, hooded figure walks through nearly white-out conditions toward buildings barely visible through horizontally blowing snow.
Myers' flight from McMurdo to the South Pole covered 1500 miles and took three hours. "The South Pole," she wrote in her online journal on November 18, 2002. "
A mythical place, A place that Scott and his companions suffered and died to reach. A place where the Ice Queen lives. The end of the earth. As far south as you can go. Only a few thousand people have ever succeeded in reaching the South Pole in the history of the planet
." Myers' flight followed the route that many of the early explorers had taken, including Scott and Sir Ernest Shackleton. There are several buildings at the Pole, but its main architectural feature is a geodesic dome whose temperature inside is kept the same as the outside air. Food is stored in the dome whose inside walls and pipes are perpetually frost covered. Food supplies that shouldn't be frozen are stored in a giant freezer that is heated.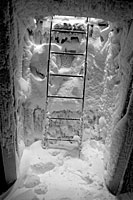 In Myers' photograph,
South Pole Exit
, the walls and door of an interior room in the dome sparkle with frost and snow. Only the electrically lit exit sign is frost free and it marks, ironically, a passageway sealed by a wall of ice. The exit is, in fact, a narrow metal ladder in the doorway that rises toward the "
brilliant polar light that is just as bright at midnight as it is at noon
."
On an earlier trip to Antarctica, Myers had photographed in South Georgia located on the other side of the continent from McMurdo Station. Ernest Shackleton made it to South Georgia after his horrendous open-boat journey on the southern ocean. He had to cross the rugged mountains there to get to the whaling station where he finally got help for his men who had been marooned since their ship sank. Myers learned that
50,000 penguins inhabit some of the beaches of South Georgia. In her image,
Gold Harbor
, she photographed a spectacular landscape where a circular body of water below snow covered crags is surrounded by countless penguins.
Photographing penguins was not always a simple matter. On the highly restricted Beaufort Island, for instance, even penguin researchers can only visit for for a few hours each season. Myers was able to enter the colony as long as a penguin researcher was present.
Myers' photographs have been described as "
unfailingly accomplished, and always powerful in their uncanny serenity
." Wondrous Cold: An Antarctica Journey contains black and white, as well as color photographs. Myers' platinum prints are printed on Stonehenge archival rag paper. Her Cone Pigment prints were printed on Hahnemuhle archival rag paper. The color photographs are Epson Pigment prints printed on Hahnemuhle archival rag paper.
For her work on Antarctica Myers was recently awarded the 2003 Eliot Porter Prize by the New Mexico Council on Photography given to a state resident engaged in a long-term project of unusual merit.
Joan Myers received an MA in 1966 in musicology from Stanford University. During the 1970s she became interested in non-silver photographic processes. She moved to Santa Fe and in 1980 began photographing the Santa Fe Trail, at that time unmarked and unused for more than a century. Myers often subtly hand colors her platinum palladium print photographs, enhancing the tactile quality of the paper. Myers has said of her work, "
I don't do portraits or social commentary. What interests me is living - the way human beings affect the landscape in which they live. My job is to see clearly.
"
Liz Kay