Paul Caponigro
Fifty Years of Photography
Exhibit Dates March 14 - May 5, 2003
Opening Reception: Friday, March 14, 5-7 p.m.
Andrew Smith Gallery presents an exhibit of classic photographs honoring Paul Caponigro's distinguished fifty-year career as one of the greatest photographers of our time. Paul Caponigro: Fifty Years of Photography opens Friday, March 14, 2003 with a reception from 5-7 p.m. The exhibit at Andrew Smith Gallery contains classic, as well as never before printed photographs dating back to the 1950s. It is the first time that Mr. Caponigro has been willing to exhibit his vintage photographs. The exhibit continues through May 5, 2003.

As a master photographer Paul Caponigro has spent years exploring the natural world and architectural forms from antiquity. His vision has roots in Paul Strand's response to the purity of forms, and in the metaphysical/metaphorical tradition of Minor White. But Caponigro primarily seeks inspiration in nature and natural forms. His printing reflects a heightened sensitivity toward gray tonalities rather than the impact of strong blacks and whites. Indeed, his print quality is considered the best in the world. Beyond the simple directness of his compositions and his attention to details, Caponigro's photographs convey deeper meanings. Whether the subject is a landscape, a solitary apple, or a ring of standing stones, his photographs invoke the promise of growth and regeneration mingled with timelessness.

In the exhibit, Fifty Years of Photography, Caponigro's images of rocks and waves, trees and snow, old houses and riverbeds are as beautifully soothing and satisfying as a Chopin nocturne. He invites us to pause for a moment and reflect with fresh eyes on subtle movements in nature like the ebb and flow of tides, surfaces polished by wind and water, or twisted by the elements into goblin-shaped knots and whorls encrusted with lichens.


Symmetries and conjunctions that mostly pass unnoticed have always been the subject of his work. In "Beach No. 2, Montauk Point, NY," 1972, Caponigro photographed a long line of white surf washing up a long beach. The horizontal photograph is a study of dark values of sea and sand, bifurcated by a graceful gesture of white foam. Caponigro's photographs are as much tactile as visual experiences.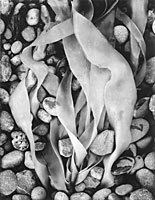 We sense invisible currents in, "Sea Kelp, Nahant, Mass," 1965, in which Caponigro photographed at close range ribbons of kelp undulating like watery flames in the shallow water.


We relish the warmth of late afternoon sun on desert rock in, "Monument Valley Mesa, Utah," 1976, where a majestic pillared formation emerges from the desert like a giant's hand reaching for clouds in the sky. Caponigro invokes the feeling of cold metal in the photograph,


"Doorknock, Beacon Hill, Boston," 1959, a image of an antique doorknock, shaped like a hand with cupped fingers that gleams against a freshly painted door decorated with a cross-shaped design. Caponigro is sensitive to moments of order amid the jumble of things, as in his photograph of a nest of small rocks tucked neatly between boulders.


At other times his eye finds the chaos hidden in something predictable, as in "Olsen House Window, Cushing, Maine," 1990, where a window pane in a wood frame house has one square of glass missing and this dark cavity punctuates the otherwise orderly composition.

Frequently Caponigro turns his lens to nature's mutable and unpredictable displays of creation; a stream of clear water shimmering and shifting, a young leafy tendril curling in front of a screen of mature leaves, or an ocean wave breaking on wave-shaped rock. In the serene photograph, "River, Canyon de Chelly, AZ," 1976, the sun clips the flat horizon, illuminating the serpentine river that over eons has carved Canyon de Chelly in the southwest badlands.

Paul Caponigro was born in Boston in 1932. He was already working as a photographer when he first traveled to the western United States in 1953 as a soldier on route to San Francisco during the Korean War. His experiences in the southwest inspired him to pursue a highly personal vision in photography. During the 1950s and 60s he made photography on the west coast, studying with Minor White, publishing his photographs in Aperture magazine, and exhibiting at the George Eastman House. In 1966 he was awarded a Guggenheim Fellowship which enabled him to travel to Ireland where began his lifelong interest in photographing megalithic sites. In 1976 he made his classic photograph of running white deer titled, "County Wicklow, Ireland."

In the early 1970s Caponigro moved to New Mexico and resumed photographing western spaces. An awesome silence permeates these photographs of deserts, canyonlands and lush river valleys.

Isolated clouds hover over immense plains, long wavelengths of light illuminate scattered sage brush, and Anasazi ruins mirror the eroded land.

After living many years in Santa Fe, Paul Caponigro returned to his New England roots and currently lives in Maine. His most recent book, New England Days: Photographs by Paul Caponigro, was published in 2002 by David R. Godine, Boston.

Paul Caponigro has several major European shows scheduled in 2003. His work will be exhibited at the Galarria Civica in Modena, Italy in April through June before traveling to Turin, Italy.


Liz Kay